Blackmagic Design SmartScope Duo 4K Rack-Mounted Dual 6G-SDI Monitors
by Blackmagic Design MFG# BMD-HDL-SMTWSCOPEDUO4K2
SmartView
Intelligent SDI monitoring with broadcast quality scopes!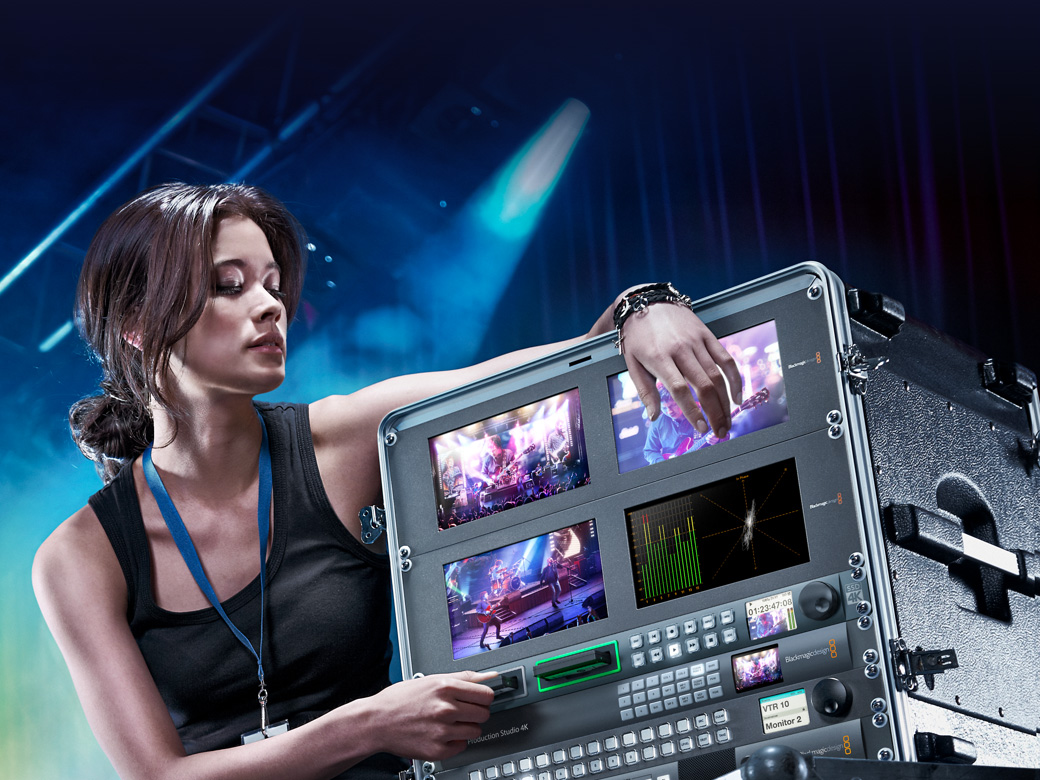 SmartScope Duo 4K
Technical Specifications
Description
SmartScope Duo 4K looks like a SmartView Duo but adds independent waveform monitoring so you can select between waveform, vectorscope, RGB parade, YUV parade, histogram and audio phase level displays. Each monitor is independent so can display any combination of scope or picture view!
Connections
SDI Video Input
Automatically switches between SD, HD and 6G-SDI. Reclocked loop through output.
SDI Video Output
1 x 10 bit loop through SD, HD and
6G-SDI switchable.
SDI Audio Input
16 channels embedded in SD, HD and UHD.
SDI Audio Output
16 channels embedded in SD, HD and UHD.
Multi Rate Support
Standard definition SDI, high definition SDI and 6G-SDI.
Tally
9-pin D connector.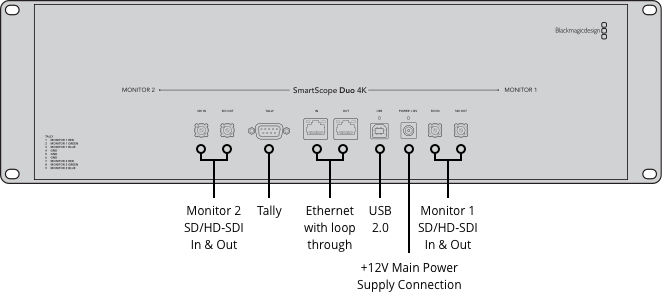 Standards
SD Format Support
525i29.97 NTSC, 625i25 PAL
HD Format Support
720p50, 59.94, 60
1080p23.98, 24, 25, 29.97, 30, 50, 59.94, 60
1080PsF23.98, 24, 25, 29.97, 30
1080i50, 59.94, 60
2K Format Support
2K DCI 23.98p, 2K DCI 24p, 2K DCI 25p
2K DCI 23.98PsF, 2K DCI 24PsF, 2K DCI 25PsF
Ultra HD Format Support
2160p23.98, 24, 25, 29.97, 30
SDI Compliance
SMPTE 259M, SMPTE 292M, SMPTE 296M, SMPTE 372M, SMPTE 424M Level B and SMPTE 425M.
Audio Sampling
Television sample rate of 48KHz
Video Sampling
4:2:2 and 4:4:4
Color Precision
8-bit
Color Space
YUV and RGB
Computer Interface
USB 2.0 for software updates and Ethernet for configuration
Colorspace Conversion
Hardware based real time.
Scopes
Luminance Waveform, Vectorscope, RGB Parade, YUV Parade, Histogram, Audio phase and level.
Software
Software Included
Configuration utility for MAC and Windows.
Internal Software Upgrade
Via included firmware updater software.
Physical Installation
3RU
Operating Systems

Mac 10.12 Sierra,
Mac 10.13 High Sierra or later.

Windows 8.1 or Windows 10.
Power Requirements
Power Supply
12V universal power supply included with international socket adapters for all countries.
Power Consumption
< 20 Watts
Operational Voltage Range
12V - 15V
Physical Specifications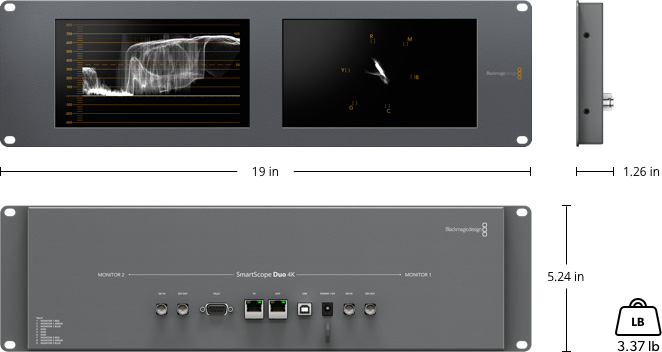 Environmental Specifications
Operating Temperature
0° to 40° C (32° to 104° F)
Storage Temperature
-20° to 45° C (-4° to 113° F)
Relative Humidity
0% to 90% non-condensing
What's Included
SmartScope Duo 4K
Power Supply
SD card with software and manual
Warranty
12 Months Limited Manufacturer's Warranty.
The Blackmagic Design SmartScope Duo 4K Rack-Mounted Dual 6G-SDI Monitors is a monitoring solution for studio and location productions, displaying video with resolutions up to 3840 x 2160 at 30p. It features two 8" monitors each with a loop-through SDI input and output. The inputs are auto-sensing/selecting so you don't have to worry about matching the input format; the monitor will display any supported format that you feed it. You can choose to select to display either the input video or one of six scope displays, while the input video passes through the monitor to downstreamed devices.
You use the USB connector to initialize the monitor on your network; after that you can control the monitors using the supplied software via the Ethernet connector. This allows you to adjust the monitors' brightness and color as well as select the monitors display mode - video or scope view. The SmartScope Duo 4K also incorporates a Tally display around the border of the image, which works with industry standard Tally systems. The unit takes up three rack height units, but is less than two inches deep (including the connector depth), which makes it well suited for use in production trucks where space is at a premium. The unit also automatically flips the image if you need to install the unit upside down.
Note: SmartScope Duo v1 and v2 are functionally identical, with v2 containing a slightly different internal component set.
Monitors SD/HD/3G/6G-SDI Signals

The SmartScope Duo 4K allows you to monitor SD, HD, 2K, and UHD 4K (3840 x 2160) video. The inputs are auto-sensing/switching to match the supported input video format. Each monitor features one 6G input and one reclocked loop-through 6G output.
Video or Scope View

You can select from either the video feed or one of six scope views of the video signal:


Waveform: Displays the luminance component of the video signal on an IRE scale.
Vectorscope: Allows you to accurately measure colors in the video signal, and is a valuable tool when matching cameras, or when you need to align the hue on the output of decks.
Parade: You can choose to display either RGB or YUV Parade. RGB Parade lets you check for illegal colors, plotting them against an IRE Scale. The YUV Parade display shows the YUV component video as it is transmitted down the SDI cable.
Audio Views: allows you to monitor 16 channels of audio, checking the levels and the audio phase. You can monitor the levels of all 16 channels at the same time, or monitor the stereo phase of SDI audio pairs. The stereo phase meter plots left and right audio as an XY scope display, and out of phase audio can be seen as either a left or right leaning display.
Histogram: The Histogram view lets you see where the pixels are in your video, and how they are distributed from black to white. You can see where the overall exposure is, and if you are exposing the brighter areas of your image with enough detail.
Software Control

The monitor features an Ethernet in and an Ethernet out port, and you set up the unit using the USB 2.0 port. After that, you use the included free control utility with either a Mac or Windows computer via the Ethernet connection to select your views and make any adjustments to the monitor for brightness and color.
Tally

Each monitor supports the Tally function with different colored borders indicating the Tally condition: preview, on air, and recording. The tally connector is compatible with switchers and automation systems.
Reversible

SmartView monitors may be installed in the extreme top or bottom of equipment racks. The SmartView monitor will automatically sense the rotation angle of the screen and flip the image to the correct rotation. You can even remove the front panel and rotate it 180 degrees if required.
Supported Formats
UHD 4K
3840 x 2160p 23.98/24/25/29.97/30

2K
2048 x 1556PsF 23.98/24/25
2048 x 1080PsF 23.98/24/25
2048 x 1080p 23.98/24/25

HD
1080p 23.98/24/25/29.97/30/50/59.94/60
1080PsF 23.98/24/25/29.97/30
1080i 50/59.94/60
720p 50/59.94/60

SD
NTSC, PAL
SDI Compliance
SMPTE 259M
SMPTE 292M
SMPTE 296M
SMPTE 372M
SMPTE 425M
Video Sampling
4:4:4
4:2:2
Bit Depth
8-bit
Color Space
YUV
RGB
Audio Sampling
48 KHz
Screen Size
8" (20.3 cm)
Inputs/Outputs
Video Inputs
1 x 6G/3G/HD/SD-SDI per monitor

Video Outputs
1 x 6G/3G/HD/SD-SDI reclocked loop-through per monitor

Audio Inputs
16 Channel embedded in SDI signal

Audio Outputs
16 Channel embedded in SDI signal
Tally
1 x 9-pin D connector
Computer Interface
2 x Ethernet (1 x in, 1 x out)
USB 2.0 (software updates and Ethernet configuration)
Computer Requirements
Mac OS
OS X 10.7 or later
OS X 10.8 or later

Windows
Windows 7
Windows 8
Operating Temperature
32 to 104°F (0 to 40°C)
Storage Temperature
-4 to 113°F (-20 to 45°C)
Relative Humidity
0 to 90%, non-condensing
Power Requirements
12 to 15 VDC
Power Consumption
Less than 20 W
Dimensions (WxHxD)
19 x 5.2 x 1.3" (48.3 x 13.3 x 3.2 cm)
3 RU
Weight
3.37 lb (1.53 kg)
Packaging Info
Package Weight
4.85 lb
Box Dimensions (LxWxH)
19.3 x 6.6 x 2.9"