Blackmagic URSA Studio Viewfinder
by Blackmagic Design MFG# BMD-CINEURSANSVF
Blackmagic URSA Studio Viewfinder
Turn your URSA Mini into the ultimate live production camera!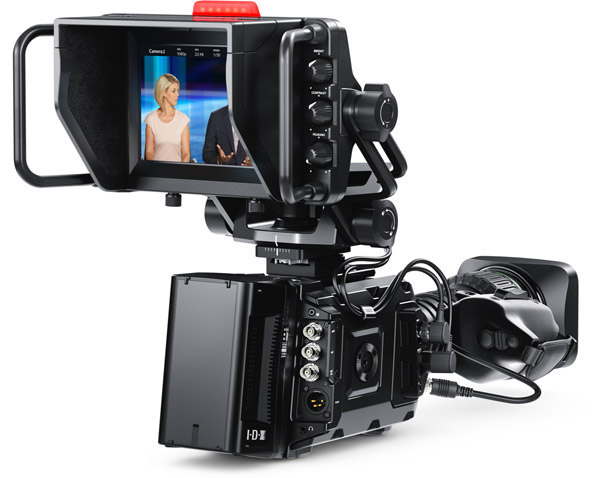 You can turn any model of URSA Mini into a professional live production camera by adding the URSA Studio Viewfinder! Unlike traditional studio cameras which are based on simple video imaging technology, URSA Mini Pro and URSA Mini are true digital film cameras combined with full professional studio camera features. You get talkback, tally and remote camera control, plus you can add the amazing Blackmagic URSA Studio Viewfinder to get a professional studio camera user interface. The studio viewfinder features a bright 7" screen that features a large easily viewable tally light, control knobs, large easy grip handles, sun shade, variable tension articulated mount and more!
In the Studio or On Location
Comfortably work for hours on long events!
Operating a camera at live concerts, sports, and other long events is hard if you have to look through a traditional eyepiece for hours on end! The URSA Studio Viewfinder has a large bright display with large handles and external controls that make it easy to stand behind the camera and comfortably follow the action for extended periods of time. The URSA Studio Viewfinder features integrated dials and buttons that let you adjust settings without having to take your eyes off of the action, plus it includes tally lights and drop in acetate numbers so it's always easy to identify which camera is live!
Designed for Live Production
Easy to position, adjust and control while live on air!
Designed for professional live production, the URSA Studio Viewfinder features large handles and variable tension articulated mounting that allow you to adjust the position and angle of the viewfinder without moving the camera. It connects directly to the SDI and power outputs on your URSA Mini Pro, making installation simple. The large 7" screen includes a detachable sunshade so you can use it day or night, and the control dials and customizable function buttons let you make adjustments on the fly so you don't have to touch the screen or look away!
Control at Your Fingertips
Never take your eyes off of the action!
The URSA Studio Viewfinder features control dials and function buttons that allow you to quickly display critical framing and focus overlays, change settings and more! A menu dial allows you to fly through options and also dial in which part of the picture is magnified so you can check detail and focus. You can also adjust the viewfinder's brightness, contrast and focus peaking using the dedicated knobs on the right side of the screen. Plus, there are three customizable buttons that can be used to display zebra, false color, edge focus detection, luminance waveform, custom LUTs and more right at your fingertips!
Blackmagic URSA Studio Viewfinder
Technical
Description
When you're working live in the studio or out at an event in a large venue such as a stadium, the URSA Studio Viewfinder gives you everything you need to comfortably operate your URSA Mini in live production! The bright 7" screen has a detachable sunshade and includes large handles and an articulated pivot mount that let you position and move the viewfinder independent of the camera! The large rotary control dials and customizable function buttons let you make on the fly adjustments without having to take your eyes off the action! Set up is quick and easy using the included V-Lock plate and it connects directly to the SDI monitor and power output on your URSA Mini, so you don't need additional cables or power supplies.
Connections
SDI Video Input
1 x HD/Ultra HD 3G-SDI via BNC.
Power Input
1 x 4 pin XLR 12V.
Screen Dimensions
7" 1920 x 1200 resolution.
Screen Type
7" IPS LCD.
Computer Interface
1 x USB type C connector for initial setup and software updates via Blackmagic Camera Setup software.
SDI Video Standards
HD Format Support
720p50, 720p59.94, 720p60
1080p23.98, 1080p24, 1080p25, 1080p29.97, 1080p30, 1080p50, 1080p59.94, 1080p60
1080i50, 1080i59.94, 1080i60
SDI Compliance
SMPTE 259M, SMPTE 292M, SMPTE 296M, SMPTE 425M 2084.
Video Sampling
4:2:2 YUV.
Color Precision
10-bit.
Color Space
REC 601, REC 709.
Multiple Rate support
SDI switches between 1.5 Gb/s HD and 3.0 Gb/s 60P HD.
Monitor Features
Controls
Dial, knobs and customizable function buttons for settings, short cut features and navigating menus.
Handles
Built in grab handles for positioning the monitor independently from the camera.
Position Adjustment Options
Variable tension pivot points for articulated arm and grab handles with forward, backward, up, down, pan and tilt adjustments.
Mounting Options
Quick release V-lock mounting bracket for attaching viewfinder to URSA Mini handle.
Tally
Large LED tally light with customizable perspex camera numbers.
Metadata Support
Detects camera information embedded in the SDI signal including status information, frame guides, focus peaking, tally, and more.
Screen Interface
On screen meters and status information including Camera ID, resolution, frames per second, shutter speed, gain, white balance, camera battery level, and more.
3D Lookup Table Support
LUT support for loading custom LUTs.
Operating Systems

Mac 10.12 Sierra,
Mac 10.13 High Sierra or later.

Windows 8.1 or Windows 10.
Physical Specifications