Cintel Audio and KeyKode Reader
by Blackmagic Design MFG# BMD-CINTELSNAUDKCSCAN
Cintel Audio and KeyKode Reader
The Cintel Audio and KeyKode Reader lets you capture professional, high quality audio and KeyKode information with images directly from film with the Cintel Scanner. You get LED illumination with advanced optics and precision mechanical adjustments along with a precision capstan and encoder that automatically corrects wow and flutter. With unique identification numbers for each film frame it is easy to correlate with corresponding video time frames.
Key Features
Equalisation

 

- Optical audio SMPTE, Magnetic audio IEC.
Supported KeyKode Scan Speeds

 

- All scanner speeds.
LED Type

 

- Optical audio and KeyKode Deep RED.
Supported Audio Scan Speeds

 

- 6fps-125% chosen film rate i.e. 24fps film frame rate has a 30fps maximum scan speed.
Supported Optical Audio Types

 

- Variable Area, Variable Density.
Optical Audio 35mm

Bandwidth: 40Hz-16kHz +-2dB
SnR Signal to Noise Ratio: Transparent film base -65dB
Wow and Flutter: < 0.15%

Optical Audio 16mm

Bandwidth: 40Hz-7kHz +-2dB
SnR Signal to Noise Ratio: Transparent film base -65dB
Wow and Flutter: < 0.3%

Magnetic Audio

Engagement Pressure: 15 grams
Bandwidth: 32Hz-14kHz +-2dB
SnR Signal to Noise Ratio: -55dB
Wow and Flutter: < 0.3%

Full Modulation Level

 

- -18dBFS
Headphones Level

 

- -18dBu at 50? load
Connections
Preview Audio Output
3.5mm stereo headphone jack.
USB Type C
Firmware updates only, generic USB and not Thunderbolt.
XLR-6
For connecting to the Cintel Scanner.
Power Requirements
Power Consumption
Voltage 12V. Power 10W.
Ideal Film Conditions
Operating Temperature
18 - 28°C
Relative Humidity
Maximum 65% non-condensing.
What's Included
Cintel Audio and KeyKode Reader
Warranty
12 Month Limited Manufacturer's Warranty.
Cintel Scanner
The creativity of filmcombined with a revolution in design!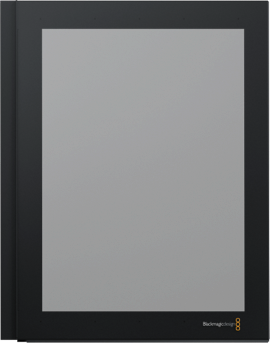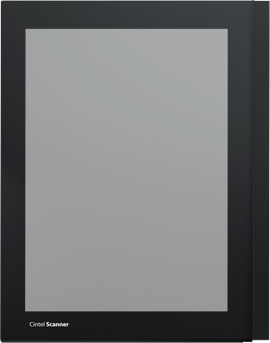 No other company in the world has more experience at scanning film than Cintel. That knowledge has been combined with cutting edge technology to produce the Cintel Scanner! Designed with an architectural aesthetic, the Cintel Scanner is so thin it can even be wall mounted! It features redesigned digital servos, a high intensity diffuse light source and advanced imaging system so you get real time HDR scanning of 35mm and 16mm film up to 30fps in Ultra HD resolution! The Cintel Scanner is perfect for creating digital film files you can use in post production or for unlocking vast film libraries and converting them to Ultra HD masters for streaming and online distribution!
Convert Existing Film to Ultra HD
With consumers purchasing large Ultra HD televisions in massive quantities, the demand for great Ultra HD content has never been greater. Studios have generated millions of hours of film over the last 100 years and now it's stored in vaults around the world. All of that 35mm film is 4K resolution, which makes converting older film libraries the fastest and most inexpensive way to deliver Ultra HD content to consumers! The Cintel Scanner will scan negative and positive 35mm film into amazing quality Ultra HD, unlocking the extra resolution from 35mm film that no one has been able to see until now! There is no easier way to generate Ultra HD feature films and television programming for customers to view on their new large screen televisions!
The Creative Advantage of Film
Nothing looks more like film than film does! The look of well shot 35mm film is unmistakable and it's what all digital cinema cameras strive to emulate. When you shoot on film, you are not locked into a single look because you can pick a range of film stocks that totally alter how your images will look. Even today, with the most amazing digital cinema cameras available, some of Hollywood's biggest filmmakers still prefer to shoot on 35mm film, not only because of it's sharpness, dynamic range, and colorimetry, but mostly for that classic film creative style. Unfortunately in the past the cost of post production involving film was high. The Cintel Scanner eliminates this high cost because it's a complete low maintenance design you can install and operate yourself!
Preserve Historical Footage
Cintel Scanners include the most advanced Image Mill processing technology. This means you always have optical stabilization technology available, making the Cintel Scanner a perfect choice for historical archive conversions and restoration projects. Cintel's ultra thin size means you can install it desk mounted or even wall mounted. There are even multiple accessory mount points for adding audio pickups or key-code readers. Now you can purchase your own scanner so you don't have to transport precious film out of house to be transferred. The Cintel Scanner lets you produce stabilized files that are ready for digital restoration and mastering.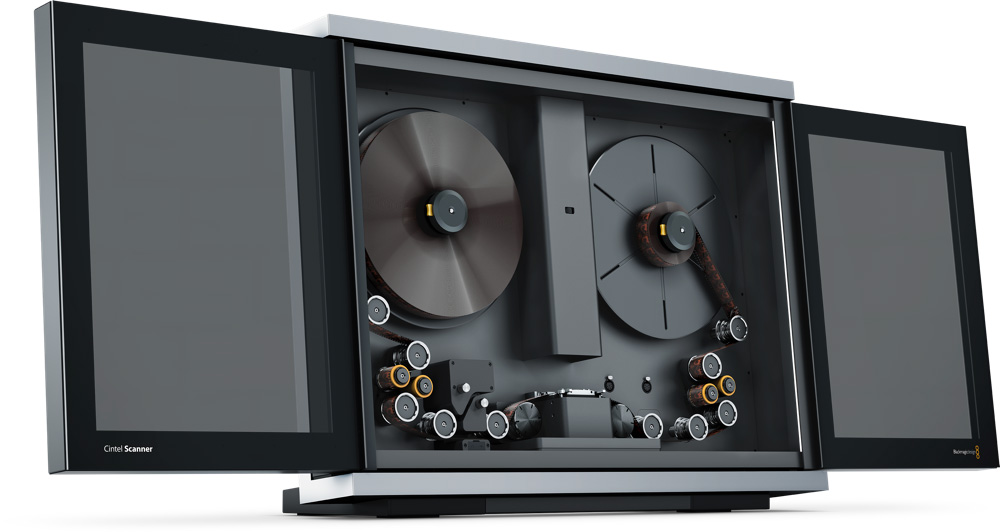 Innovative Design
Designed to hang beautifully on your wall, the Cintel Scanner is constructed using aircraft design techniques for a stiff and vibration free main deck so you get smooth film handling. The core chassis is a super rigid structural space frame, which results in a dramatically lighter and more durable body than older simplistic heavy plate designs. This means the Cintel Scanner is light enough to be wall mounted in your facility, making it part of the environment of your color correction suite. Being super thin and wall mounted, it's out of the way until you need to use it, and then it springs to life and performs! Whether you mount it on a wall or use it on the desktop, its innovative design includes sliding doors, built in cleaning rollers and new digital servos that gently handle your valuable negatives and keep your film clean.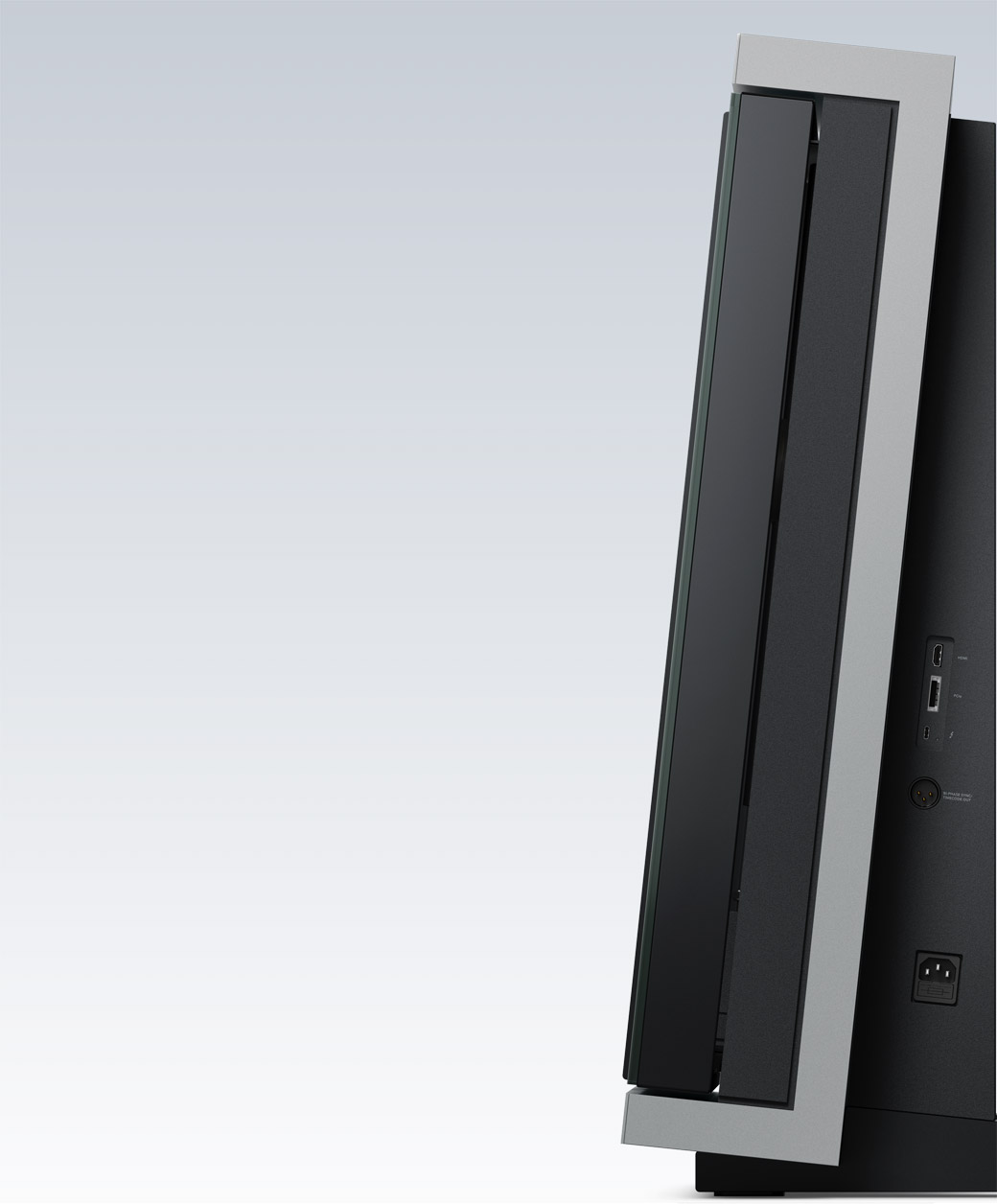 Latest Technology
The Cintel Scanner is an innovation in technology. Film traditionally has been a mechanical technology and film products have suffered from poor quality electronics that required experienced engineers to keep them working. The new Cintel Scanner 2 has been designed with the latest Blackmagic Design image processing technology and now features a PCIe connection as well as Thunderbolt 3. This means you can now connect it to your Mac, Windows or Linux computer and scan the film directly into your color correction system. That makes setup and use extremely fast plus eliminates slow file copying after scanning. You get easy to install software updates that can add new features in the future. It also means you can upgrade your computer whenever you need!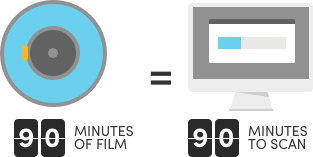 Realtime Scanning
The Cintel Scanner is the world's first real time 4K film scanner to use Thunderbolt 3, making it super easy to set up and install. The new diffuse high intensity light source means the Cintel Scanner runs at a smooth real time speed keeping film handling gentle and transfers super fast. The Thunderbolt 3 connection features a massive 40 Gb/s speed so you can transfer all this data direct into your computer without quality limitations. You can even change computers simply by unplugging the single Thunderbolt cable. In addition, there's also an external PCIe interface for connecting to Windows and Linux based computers that don't have Thunderbolt 3. With the Cintel Scanner, you get the high resolution of a film scanner with the real time use of a traditional telecine!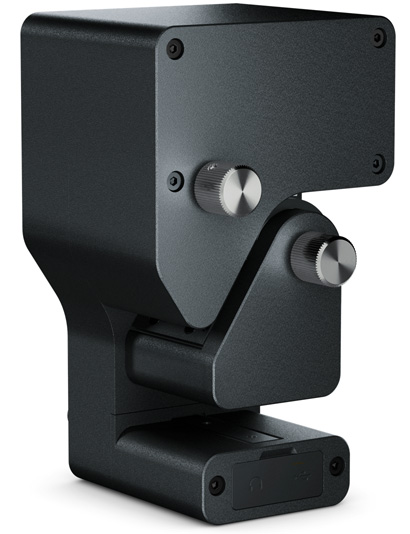 Audio and KeyKode Reader
The optional Audio and KeyKode Reader lets you capture high quality audio along with KeyKode information from the film. The reader features a magnetic audio head or deep red LED illumination with advanced optics, electro formed slits, and precision mechanical adjustments for azimuth, zenith and yaw to give you the best possible audio capture with incredible high frequency response. The reader also features a precision capstan and encoder that allows for automatic correction of wow and flutter, allowing you to accurately capture audio, even when the scanner speed changes! The KeyKode Reader provides you with unique identification numbers for each film frame so they can be easily correlated with the corresponding video timecode. Installation is easy and all you need to do is bolt the reader onto the front of the chassis and it will automatically be detected.
Renowned
Cintel Quality
The Cintel Scanner features a super bright spherical RGB LED illumination and an extremely sensitive imaging sensor. That means you get high quality scans that are super sharp even when running at full real time speed. The spherical RGB LED illumination ensures your priceless film is never exposed to unnecessary thermal stress and color fading effects of traditional scanner lamps. In addition, Cintel's patented diffusing sphere technology reduces the visibility of dust and scratches, giving you stunningly beautiful film scans every time.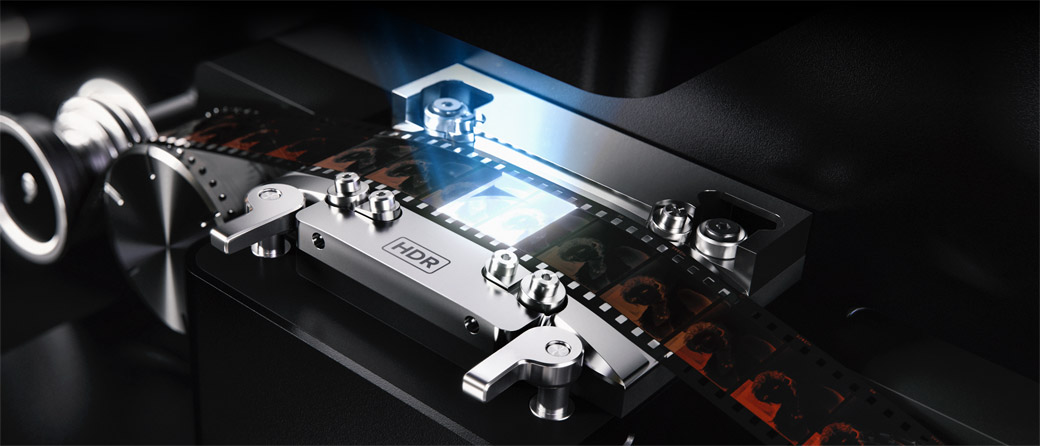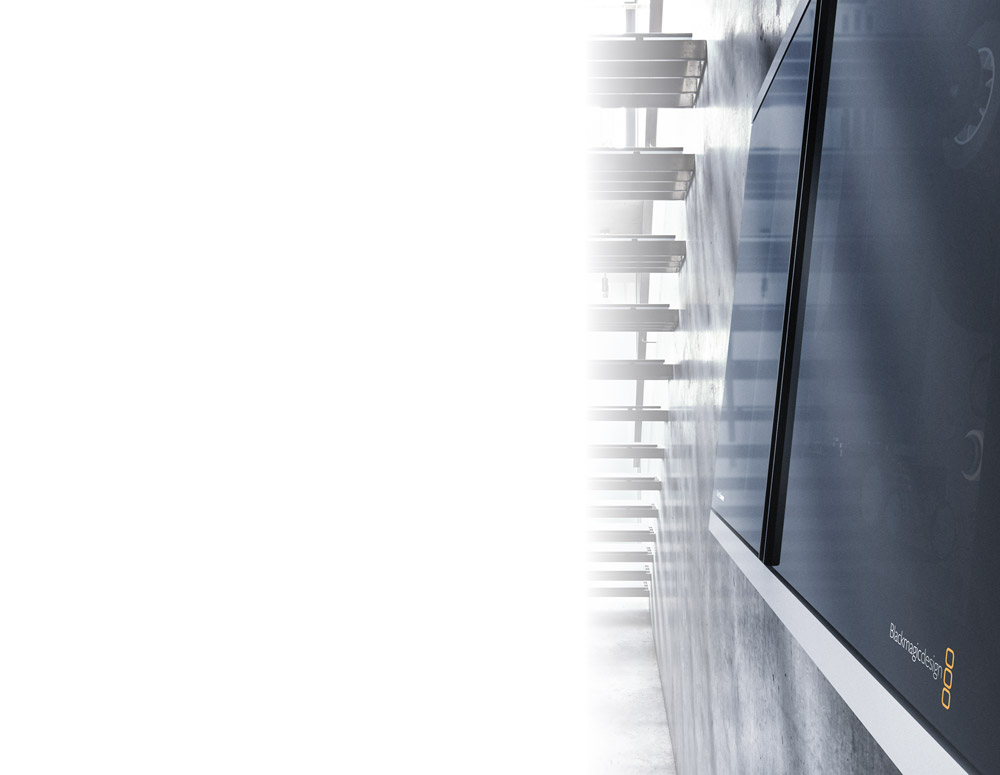 Maintenance
Free Connections
The Cintel Scanner is easy to set up and configure thanks to it's Thunderbolt 3 and PCIe interfaces. Simply connect the scanner to your Mac or Windows workstation, install DaVinci Resolve Studio, and start scanning! That means you don't need a dedicated engineer to operate and support the scanner. The Cintel Scanner has been designed to give you the freedom to move it between machines or even plug into laptop computers so you can scan your film directly into the computer you're going to use the content on. The HDMI output supports Ultra HD televisions for perfectly accurate focusing and film alignment using a local monitor. Cintel Scanner 2 also features a new bi-phase and timecode output connection to connect to external equipment such as audio followers and more! The HDMI output can even be converted into SDI video using Blackmagic Mini Converter HDMI to SDI 4K, perfect for connecting into your system for client monitoring!

HDMI
Thunderbolt 3
PCIe
XLR 3
Power
Fast Easy Control
Using the Cintel Scanner is easy and intuitive. You get scanner control software that includes everything you need to transfer and capture films to Ultra HD or HD files. Scanned files can also be opened with DaVinci Resolve for further color, restoration and mastering work. You can learn more about how to set up Cintel Scanner using by downloading the user guide here.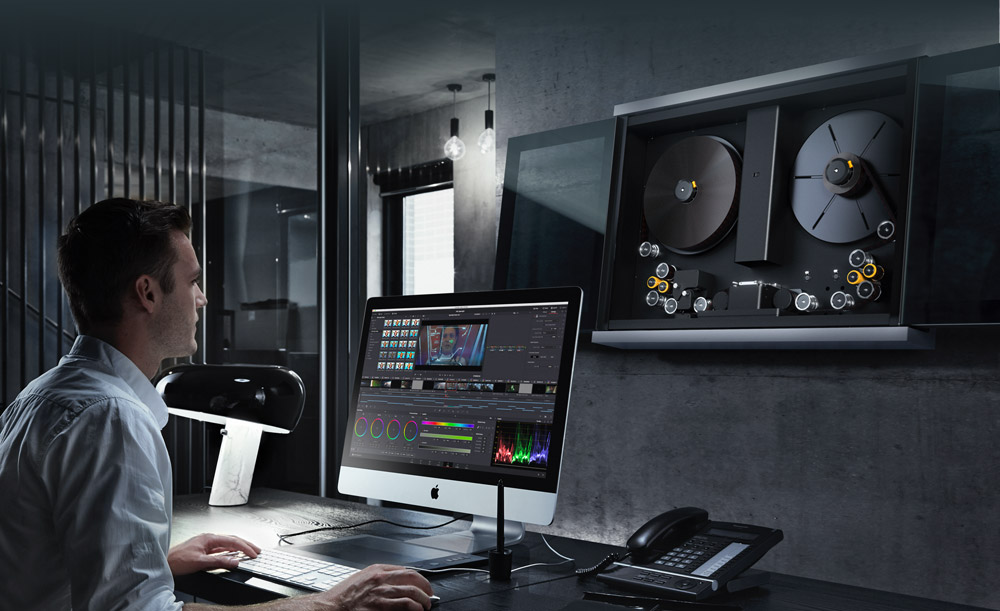 Includes
DaVinci Resolve
In the past when film was the main way to get high quality images for post production, Cintel telecine's and DaVinci color correction was the standard combination used worldwide! Now these two wonderful brands are back together again because the Cintel Scanner includes a full copy of DaVinci Resolve Studio software! Now you get full color correction features included so you can take advantage of the Cintel Scanner's amazing image quality. You will never be limited creatively by your equipment because you'll have incredible film looks combined with the same powerful color correction toolset used by the world's leading cinematographers!
Cintel Pedigree
Founded by John Logie Baird in 1927
Cintel has been providing high resolution film scanning tools to the film and television industries longer than any other company. Cintel is recognized as one of the world's most trusted researchers, designers and manufacturers of motion picture film scanners. With over 85 years of experience, Cintel has developed and patented key technologies for the highest quality digital imaging of film for broadcast, post production, and digital intermediate workflows. Now combined with Blackmagic Design's experience in cameras, image processing and DaVinci color correction, the new Cintel Scanner is a perfect blend of film tradition, advanced reliable technology combined with elegant industrial design.
1927
John Logie Baird founds the Baird Television Company, later renamed to Cintel.

1950
The first flying spot telecine was installed at the BBC's Lime Grove Studios.


1993
The Cintel Mk IIIhigh definition telecine was shown.

2014
Blackmagic Designbuys Cintel and redesigns scanner.

Complete Solution
The Cintel Scanner includes everything youneed to scan and grade film with your computer.
You get the Cintel Scanner with powerful built in Image Mill stabilization, a single 35mm HDR film gate (16mm purchased separately), two film spools, a set of four cleaning rollers, desk mount feet and DaVinci Resolve Studio software, which is used to operate the scanner. DaVinci Resolve also includes grain reduction, dust busting and dirt removal tools. The Blackmagic Design Cintel Scanner is a complete solution. There are no hidden installation fees, no software update fees, and no ongoing license fees. You may also transfer your scanner to another user absolutely free.
Example Scans
Download these ungraded RAW sample clips to see the incredible quality of the Cintel Scanner first hand!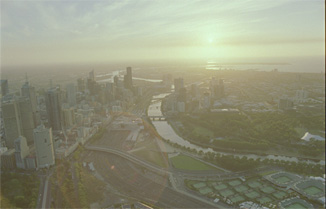 Clip 1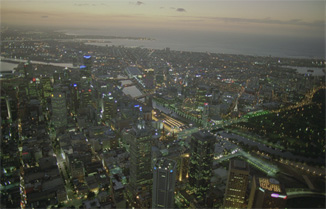 Clip 2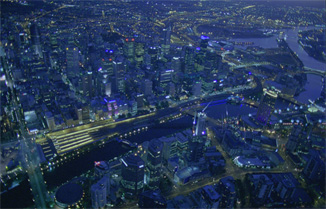 Clip 3
TAF chart

Telecine Analysis Film chart showing color balance and exposure metrics.
Resolution chart

Shows horizontal and vertical lines throughout the frame to evaluate camera sensitivity.
Download DaVinci Resolve for free!
Revolutionary new tools for editing, color correction and professional audio post production for SD, HD and Ultra HD, all in a single application!

Cintel Scanner 2
Real time film scanner for transferring 35mm and 16mm film at up to 30 frames per second via Thunderbolt 3 or PCIe at full Ultra HD resolution and even HDR. Includes DaVinci Resolve Studio Software.
$29,995
Buy Now
Cintel Audio and KeyKode Reader
Capture professional, high quality audio and KeyKode information along with images directly from film with the Cintel Scanner.
$3,495
Buy Now
Cintel Scanner 16mm Gate HDR
This optional kit includes a 16mm skid plate, 2 inner spacers, 2 outer spacers and 2 x 3" film cores.
$1,395
Buy Now
Cintel Scanner 35mm Gate HDR
Replacement 35mm skid plate for use with the Cintel Scanner.
$1,095
Buy Now
Cintel Cleaning Roller Kit
Replacement set of 4 sticky rollers for particle, dust removal and film cleaning during scanning.
$235
Buy Now
Blackmagic PCI Express Cable Kit
High speed Generation 3 PCI Express plug-in card and cable for connecting computers to products such as UltraStudio 4K Extreme 3, when you need higher speeds than Thunderbolt.
$265
Buy Now