DaVinci Resolve Advanced Panel
by Blackmagic Design MFG# BMD-DV/RES/AADPNL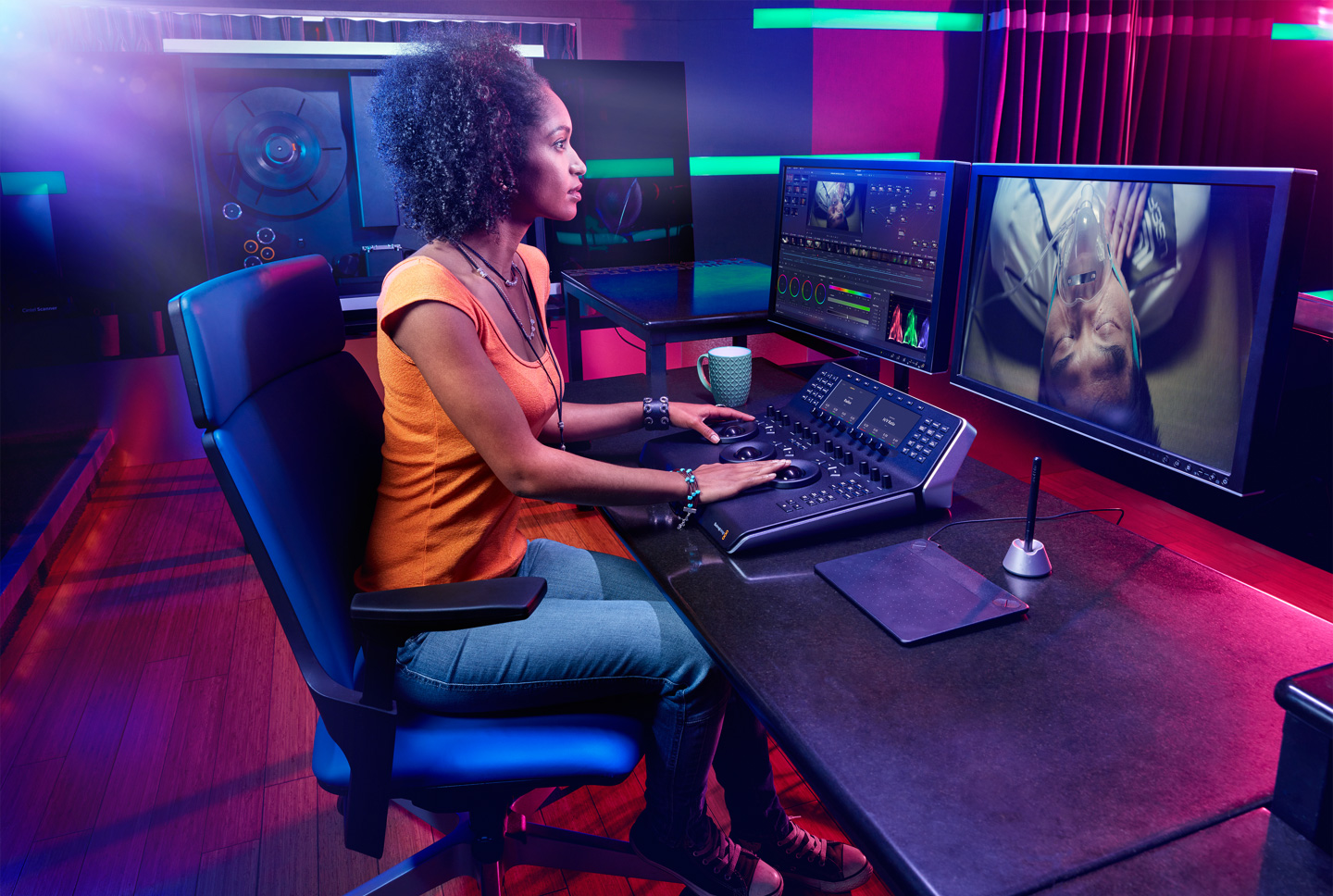 Work faster and get morecreative control than ever
 

before withprofessional

 

hardware control panels!
Exotic locations, far off places, and even entire worlds are created on the stages and inside the computers of major Hollywood film studios. Bringing it all together and making it look real requires the most powerful tools and the highest quality image processing. While DaVinci Resolve can be used as a stand alone software tool, adding a hardware control panel lets you work faster than ever before, while also dramatically expanding your creative options. Developed in collaboration with the leading post production facilities around the world, DaVinci Resolve control panels give colorists the control they need to create realistic images that make us believe in what we see on television and the silver screen!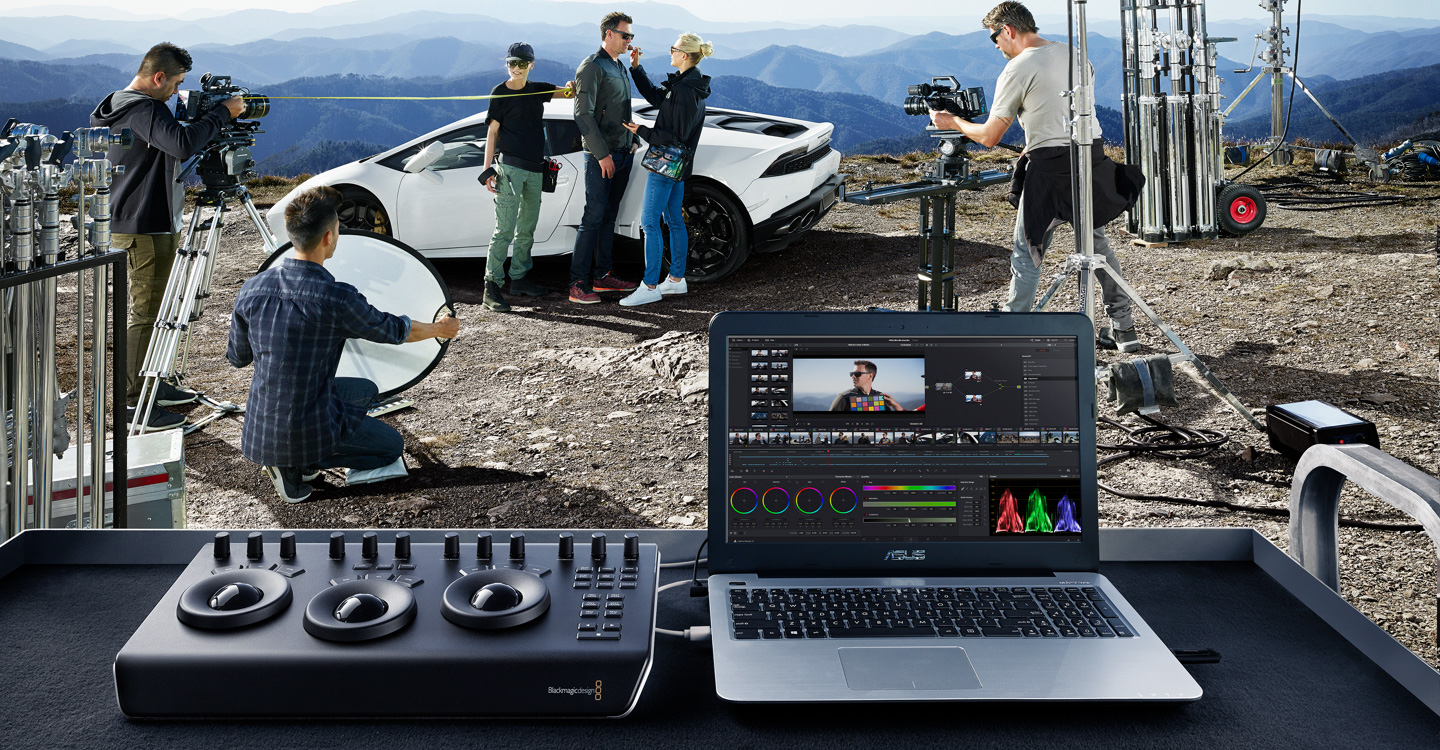 Color AddsEmotion to your Images
DaVinci Resolve control panels are designed to give you fluid, hands-on control over multiple parameters at the same time, so you can work faster and be more creative. The hardware controls are placed logically near your natural hand positions and are made out of the highest quality materials. You get smooth, high resolution weighted trackballs for making precise adjustments. All knobs, dials and buttons have been custom designed to feature the perfect amount of resistance, so you can accurately fine tune any parameter. Best of all, the hardware panels allow you to adjust multiple settings, such as lift, gamma and gain, all at the same time, giving you a level of creative control that goes far beyond what's possible with a mouse.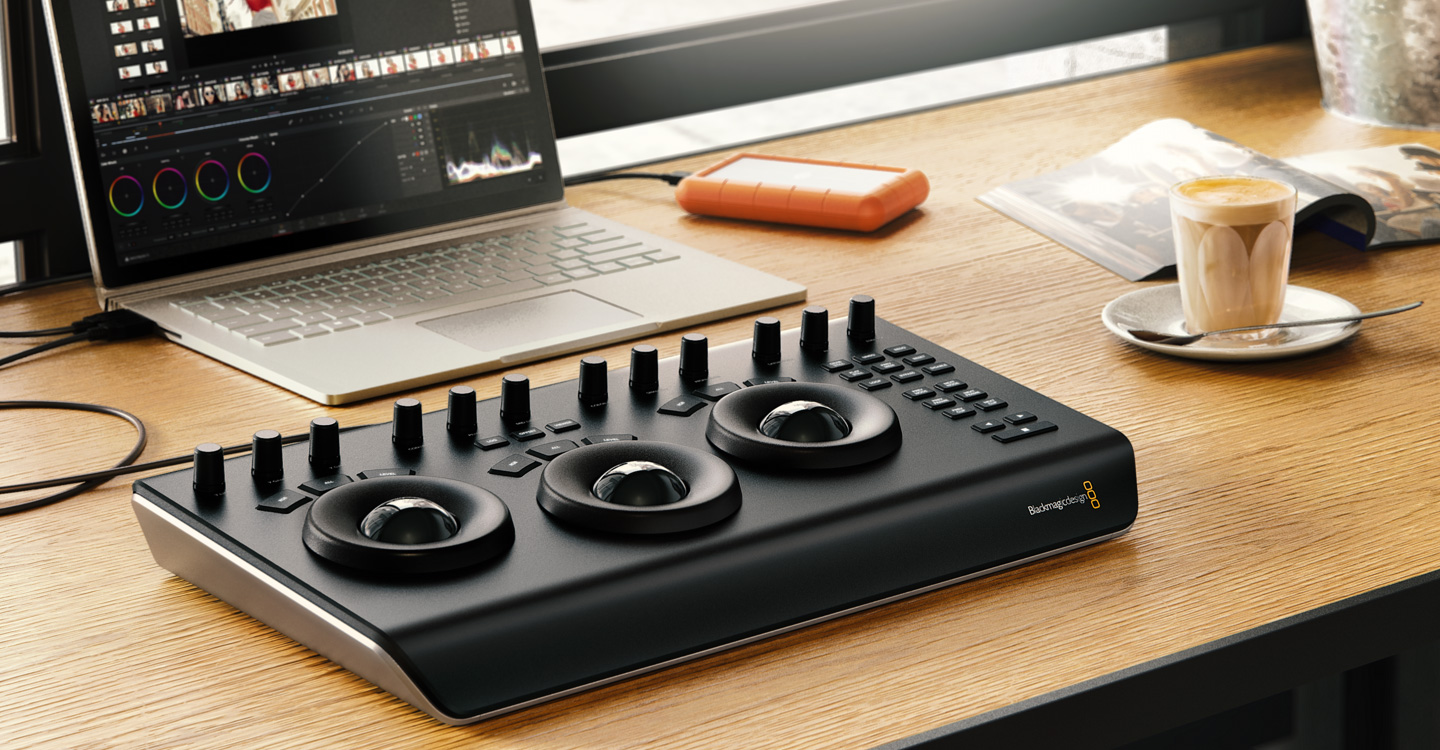 Three Panels forThree

Different Workflows
With three panels to choose from, it's easy to find one that fits perfectly on your job. The large DaVinci Resolve Advanced Panel is perfect for dedicated color correction suites and grading theaters where professional colorists work all day. The DaVinci Resolve Mini Panel is perfect when you need to switch between color and editing work, or for freelance artists that need a feature rich portable panel they can move between jobs. The DaVinci Resolve Micro Panel is incredibly small but professional. It fits perfectly next to a keyboard for simultaneous editing and color grading, and is great for use with a laptop for on location grading! All 3 panels have controls in similar positions, so it's even easy to move between systems running different panels!
DaVinci
 

ResolveMicro Panel

The DaVinci Resolve Micro Panel is a high quality, portable low profile panel that features three high resolution trackballs and 12 precision machined control knobs for accessing all essential primary color correction tools. Above the center trackball are keys for switching between log and offset color correction, as well as a key to display DaVinci Resolve's full screen viewer, which is great for use with laptops. Eighteen dedicated keys on the right side also give you access to the most commonly used grading features and playback controls. DaVinci Resolve Micro Panel is perfect for independent editors and colorists that need a truly portable solution, great on set to create looks and evaluate color and lighting, ideal for quickly grading video in broadcast trucks, great for education and much more!
DaVinci
 

ResolveMini Panel

The DaVinci Resolve Mini Panel is a compact panel that's packed with a massive combination of features and controls! Like the micro panel, you get three professional trackballs along with a variety of buttons for switching tools, adding color correctors and navigating your node tree. It also features two color LCD screens that display menus, controls and parameter settings for the selected tool, along with direct access buttons that let you go direct to the menus for specific DaVinci features. The DaVinci Resolve Mini Panel is ideal for editors and colorists that need to regularly switch between editing and color grading, or for freelance colorists that need to take their panel with them when moving between facilities! The mini panel is also great for colorists working on location shoots, for corporate and event videographers, houses of worship and more!

DaVinci Resolve Advanced Panel
For the ultimate in speed, power and control, get the DaVinci Resolve Advanced Panel! The Advanced panel has been designed in collaboration with professional colorists to work together in total harmony with the software. This large panel consists of left, center, and right consoles that give you quick, one touch access to virtually every parameter and control in the software.The DaVinci Resolve Advanced Panel lets colorists instinctively reach out and touch every part of the image, adjusting multiple parameters simultaneously with complete responsiveness for a smooth grading experience. When you're working with a client over your shoulder on a tight deadline, you need the DaVinci Resolve Advanced Panel!
Features

Primary CorrectionCreative Controls
To take your color grading to the next creative level, the DaVinci Resolve Mini and Micro panels include 12 dedicated primary color correction control knobs. These are designed to make it easy for you to stylize the look of your images and generate precise "film looks." All knobs can be pressed to instantly reset the control. That's perfect for when you are trying an exciting new style but get a bit lost. Simply press the knobs to reset!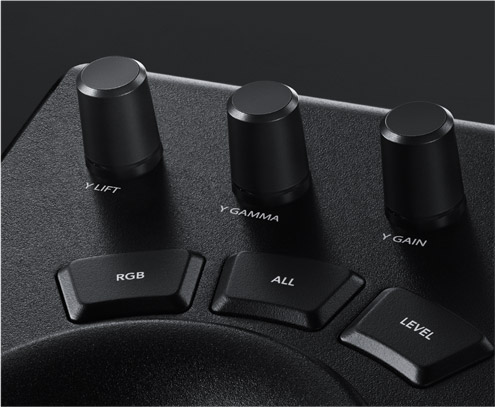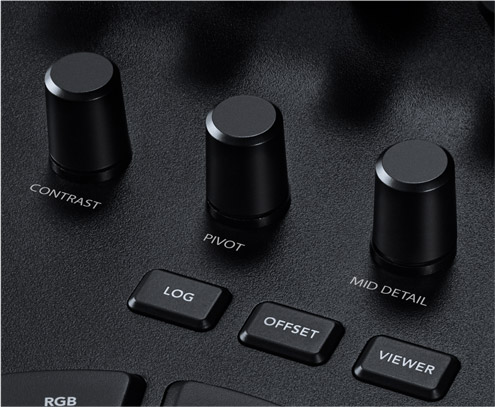 Y Lift
Adjust the contrast of the image in the darker areas, specifically in the Y (luminance) channel only. This adjustment is great for changing the black point without changing saturation.
Contrast
Increase contrast to make the blacks darker and the whites brighter, or decrease contrast to do the opposite. Use this to improve the dynamic range and make shots pop!
Y Gamma
Adjust the contrast of the image in the mid-tone areas, specifically in the Y (luminance) channel only. This control helps add depth to shots, along with extra vibrancy.
Pivot
Changes the center of tonality about which dark and bright parts of the image are stretched or narrowed during a contrast adjustment.
Y Gain
Adjust the contrast of the image in the brighter areas, specifically in the Y (luminance) channel only. You can reduce hot shots or pull the whites to make the shot look more angelic!
Mid-tone Detail
Increases the contrast of regions of the image with high edge detail to increase or decrease the perception of image sharpness and definition or when lowered regions of the image with low amounts of detail are softened while areas of high detail are left untouched. Great for softening facial features and popular for beauty shots.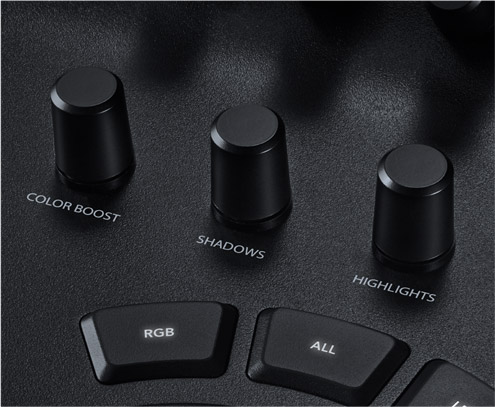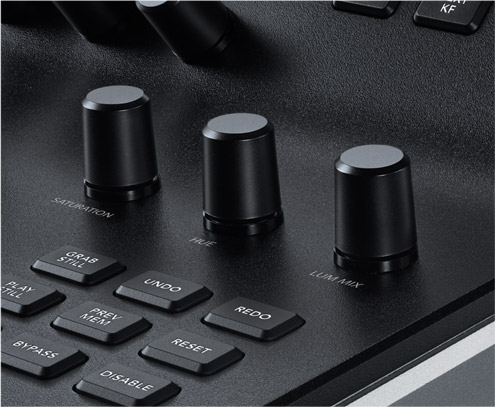 Color Boost
Naturally raise the saturation in regions of the image with low saturation while leaving properly saturated areas alone. Sometimes referred to as a vibrance operation, this is great for adding color without over saturating the image.
Saturation
Increases or decreases overall image saturation. At higher values, colors appear more intense, while at lower values color intensity diminishes and can be adjusted until all color is gone, leaving a grayscale image.
Shadows
Selectively lighten or darken shadow detail. Raising this value retrieves shadow detail while leaving the mid-tones untouched.
Hue
Rotates all hues of the image around the full perimeter of the color wheel. The default setting is 50, which retains the original unaffected distribution of hues.
Highlights
Easily retrieve blown out highlight detail in high dynamic range media by lowering this parameter to achieve a smooth blend between the retrieved highlights and the unadjusted mid tones for a natural result.
Luminance Mix
Control the balance between the YRGB adjustments and Y only adjustments made using the Y channel lift, gamma and gain controls in the primaries palette or the un-ganged luma curve.
High
Resolution Displays
The DaVinci Resolve Advanced Panel and DaVinci Resolve Mini Panel feature bright full color displays allowing full control over the massive creative toolset built into DaVinci Resolve. The displays show menus for the soft knobs and soft keys, as well as visual feedback of the knob adjustments in real time. Menus update to the current toolset automatically as you use DaVinci so you get the quickest and most direct keys to every feature, and you never waste time searching through long complicated menus.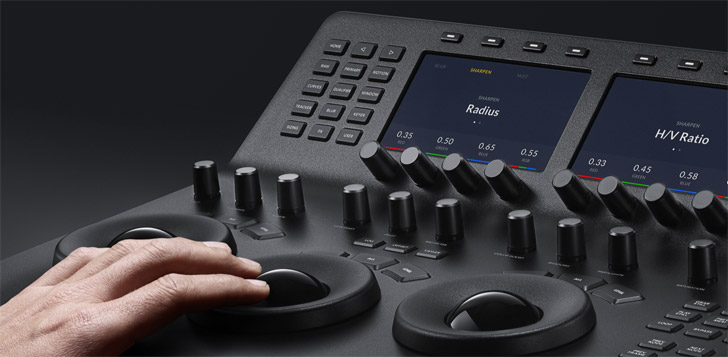 Professional Trackballs
Trackballs provide RGB balance adjustments for lift, gamma and gain, each with a master level control. The Advanced panel also features a dedicated RGB offset and master gain trackball to adjust the color balance and brightness of the entire image. The trackballs can be set to work in either log or RGB with the touch of a button.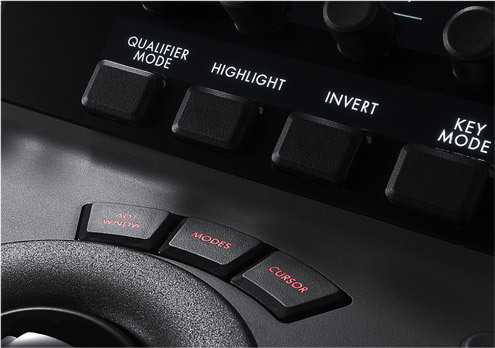 Illuminated Keys
The buttons and keys on the DaVinci Resolve control panels illuminate when selected so you can easily see which controls are active. On the Advanced and Mini panels, the keys are also backlit, making it easy to clearly see each button in a dimly lit suite!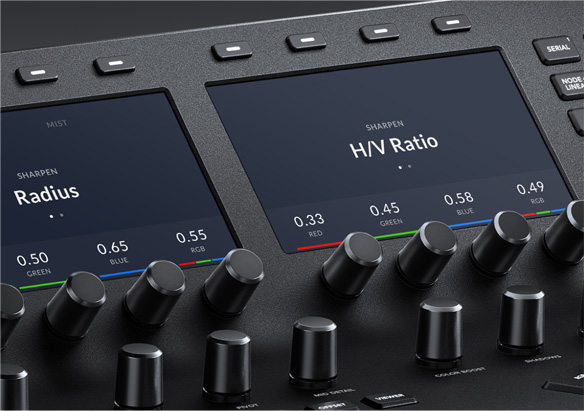 Soft Knobs
With 30 customizable soft knobs on the DaVinci Resolve Advanced Panel and 8 on the Mini panel, you get super high resolution, flexible parameter adjustments that you can reset back to the default with a simple push.

Quickly Change Tools
The DaVinci Resolve Advanced and Mini panels include dedicated feature buttons that let you quickly change tools so you don't have to switch back and forth between the mouse and panel. With the push of a button you can easily access tools such as the RAW palette, primary color correctors, curves, qualifiers, windows, tracker and more.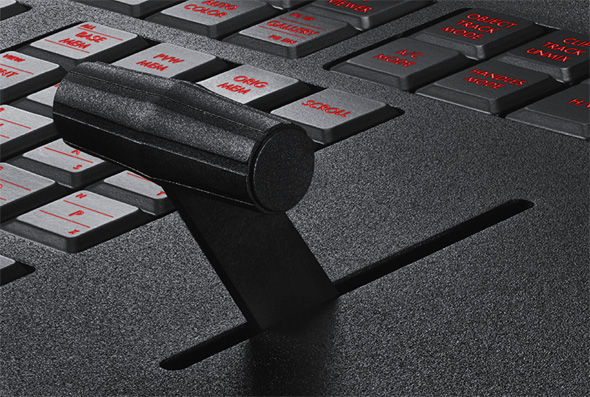 Still StoreReference
 

Management

Colorists constantly grab and play stills to compare grades using the gallery. The DaVinci Resolve Advanced, Mini and Micro panels have dedicated keys to quickly save and recall stills. On the DaVinci Resolve Advanced Panel you can also use the fader T-bar to wipe between saved stills and your grading timeline.
Transport Controls
The play forward, reverse and stop transport keys on all the panels give you full control of your project timeline or deck while the Advanced panel adds a jog/shuttle knob for faster and more precise scrubbing.

Slide Out Keyboard
Use the DaVinci Resolve Advanced Panel's slide out keyboard when you need to enter clip metadata, name files, nodes or put notes on markers. When you're finished, the keyboard retracts into the control surface.

Flexible Power Options
The DaVinci Resolve Micro Panel is fully powered via USB so you can simply plug and play to get up and running. Power over USB means you can use it with a laptop and it will operate from the laptop's battery, making it ideal for on set grading. The DaVinci Resolve Mini Panel also includes ethernet so it can operate via your network, making it fantastic for larger facilities. Plus, the ethernet PoE support means it can even power itself via the network connection so you don't need to plug in the power connection!
DaVinci Resolve Micro Panel
DaVinci Resolve Mini Panel
The Blackmagic Design DaVinci Resolve is a software / hardware combination package that includes the Resolve color correction software and the Resolve control surface. You can achieve high-quality and precise color correction using the DaVinci Resolve system.

Incorporating node-based image processing, the DaVinci Resolve provides color correction, power windows, and effects for nodes that offer a powerful color correction medium as compared to layers. Faster workflows in real-time are offered via the Resolve control surface. You are also provided with 32-bit floating point and YRGB image processing allowing you the highest depths in color correction. The Resolve control surface incorporates a slide-out keyboard that is useful when naming or renaming files, and can be neatly tucked away when not in use. All functions are accessible via separate keys such as reference keys and the fader T-bar that allows you to wipe between reference stills.

You can easily control the image sections via keys that are located for easy access along your natural hand positions. Lift, Gamma, and Gain adjustments along with RGB control is achieved via trackballs. Menus and indicators are visible via 5 high-resolution LCD displays that offer a view of functions of 62 knobs and buttons. Soft knobs that can precisely control parameters via single touch are provided, and no electrical contact eliminates wear out of the knobs. Aesthetically illuminated keys are backlit using RGB color and intensity. Complete control of project timeline or deck is offered via the jog/shuttle knob and transport controls.
The DaVinci Resolve Control Surface panels feature workflow ergonomics and ease of use so Colorists can quickly and accurately construct simple or complex creative grades. The panels feature highresolution liquid crystal displays (LCD) and backlit hard keys to accommodate a darkened grading environment. The color and intensity of the keys and the LCD panel brightness are user programmable so each Colorist can set up his/her personal panel configuration. There are three panels in the control panel set. The center panel is the Trackball panel. The majority of controls and feedback for the Colorist is found on this panel, including a slide-out keyboard.
On either side of the Trackball panel are two interchangeable panels, the position of which is determined by operator preference. The T-bar panel, shown above on the left, has a T-bar mix/wipe control and a number of menu and function keys. The Transport panel, shown above on the right, has the timeline transport controls and a jog/shuttle control as well as a numerical keypad and associated function keys.
All panels have soft keys and variable control pots within the LCD panel, which provide an accurate visual reference to the control without the risk of parallax errors. Given that so many of the controls are menu based, this User Manual will describe each of the hard keys and controls and then, separately, the menu structure and controls of the soft keys and variable pots.
A key feature of the panel design is the feedback given to the Colorist. The LCD panels provide a color and value indication based on the last control adjusted. The hard keys also reflect the last button pushed and, in some cases, other keys on the panel are illuminated or dimmed based on the menu options available for the operational mode selected.
The Blackmagic Design BMD-DV/RES/AADPNLDaVinci Resolve Advanced Panel is perfect for dedicated color correction suites and grading theaters where professional colorists work all day. It's the ultimate in speed, power and control and has been designed with three ergonomically connected control surfaces and a pull out keyboard; the Advanced panel gives you complete command of every color grading session! Each correction control has a separate soft key, knob, high resolution weighted trackball or ring so you can experiment quicker to create a wider range of looks.
The Post Production Standard
DaVinci color correctors are the standard in post production since 1984. There are thousands of colorists worldwide who understand the performance, quality and workflow of DaVinci and love it as their trusted partner in creativity. DaVinci is the name behind more feature films, television commercials, documentaries, episodic television production and music videos than any other grading system. Now avalible for both Mac and Linux, the true quality and power of DaVinci is now affordable for everyone!
Clients Demand DaVinci!
When you're in a room full of demanding clients with conflicting ideas, colorists know that only DaVinci has the quality, real time performance, creative features, and powerful control panels to make euphoric clients who love to keep coming back. That's why clients always ask for DaVinci by name.
Realtime By Design
Computer based solutions are always limited to the computer you're running on. DaVinci Resolve when running on Linux smashes this limitation, because it's based on a cluster of Linux computers with high performance GPU cards, so all processing is always real time. This means DaVinci Resolve Linux has all the power of a super computer for the real time performance you need when you're in a room full of clients. Add dozens of primaries, secondaries, power windows, multi point tracking, blurs, and more, then just hit play. It always works!
Scale as you need!
Start with a single computer on Mac OS X for lower cost, then upgrade to Linux for extra power for high resolutions such as 2K or 4K, stereoscopic 3D feature films, or real time grading of raw RED files. It's all possible with DaVinci because you can just add extra Linux computers and GPU cards via high speed InfiniBand connections. Only DaVinci Resolve scales up as your needs increase.
DaVinci processing quality is so revolutionary it won an Emmy award for contributions to the television industry! All image processing is handled in the deepest 32 bit floating point accuracy, so even if you wind down one layer to almost black, you can still wind the following layer back up with no loss of quality. All effects, power windows, tracking, primaries and secondaries all operate at the highest bit depths, even when processing in real time. That's the engineering perfection clients demand.
Optical Quality Processing
DaVinci supports flat gamma, linear or log images with equal ease and quality. If you need to resize, reposition or zoom any shot, then DaVinci Resolve does it all in real time at full RGB optical quality. Pan, tilt, zoom and rotate while grading mixed formats, mixed pixel aspect ratios and mixed resolutions all on the same timeline. Only DaVinci uses YRGB processing to independently adjust luminance using a simple control for greater creativity, such as slightly burnt out or de-saturated highlights.
Features
High quality control panel look and finish.
100+ hot keys for immediate and responsive feature selection.
Provides creative grading control with instant user feedback.
Optical precision super smooth Lift, Gamma and Gain trackballs.
Optical precision master rings.
Five high resolution LCD screens with soft menus.
30 soft keys for fast and seamless menu control.
32 soft knobs with display for concurrent multiple trims of grades.
Direct control of ARRI and RED camera decoder settings.
Direct six vector curve and RGB mixer controls.
Direct Noise Reduction controls.
Integrated pull-out Qwerty keyboard.
Full transport controls including Jog and Shuttle knob.
Direct VTR transport controls.
T-Bar for wipe control for still to grade comparison.
Customizable panel display and key brightness settings saved per project.
Customizable panel key color settings saved per project.
Trackball and knob sensitivity settings saved per project.
Fourth trackball for Offest, cursor and window positioning.
Direct key selection of memories.
One key to grab stills.
One key to play stills.
Powerful shift up and shift down qualifier keys.
Separate left and right panel permits position to user preference.
DaVinci Resolve Control Surface connects by simple USB 2 cable. Supports USB 2 extenders.
Knob positions for custom curves and YSFX have been remapped.
Shift Down + Play Still will display the node graph of the wiped reference still or timeline clip.
Shift Up + Play Still will apply the grade from the wiped reference still or timeline clip.
The Advanced Control panel includes controls for the Sat-Sat curve.