Fully populated JB3025RBA bundled with 25x 1.6TB SAS 12GB/s SSD DWPD=1
by Infortrend MFG# JB3025RBAA1625
EonStor DS is a high availability SAN storage solution designed for enterprises. Its hardware design features multiple form factors, flexible host boards to choose from, and stable, reliable modular design with high expandability; as for software, it comes with complete data services and easy-to-use management interfaces. It is ideal for all SAN environments and enterprise applications (such as database, virtualization, video editing, backup, and surveillance). The whole product line is fast, flexible, and reliable, so that you can find the perfect storage device according to your performance or budget needs.
Powerful Solution for General Purpose
The EonStor DS 4000 / 3000 series are high performance solutions for enterprises with exceptional SAN transmission performance to handle large amounts of I/O even under high workloads. They can perfectly meet the storage needs of SMBs to large enterprises and effectively boost overall productivity. Besides various form factors, up to 4 sets of modular host boards are also offered to fulfill the requirements of numerous applications or architecture transformation to allow more deployment flexibility. As such, its outstanding performance, flexibility, and high expandability can easily run mainstream critical applications on the market. The DS 4000 is perfect for the performance-conscious, while the DS 3000 is ideal for the budget-conscious as it can meet all general storage needs.
Cost-effective Solution
The EonStor DS 2000 / 1000 are entry level enterprise solutions especially designed for SMBs and ROBOs. It provides non-stop services and complete data backup features to allow IT personnel to efficiently manage all kinds of light SAN workloads, all at an affordable price. The EonStor DS 2000 / 1000 come with exceptional expandability of more than 4PB storage capacity and modular host board slots, which can easily meet the needs of future data growth and architecture transformation. As such, if IOPS is the main concern, then DS 2000 will be the best choice, otherwise the DS 1000 is ideal for the budget-conscious as it can meet all general storage needs.
Massive Capacity in One Storage System
With the progression of information, the amount of enterprise data has started to grow exponentially. Infortrend's storage products can allocate system capacity according to actual requirements, and combined with high density expansion enclosures of various specifications provide TB or PB level capacity for local storage, all with just one storage system.
Boost Performance with High Bandwidth Protocol
Fast enterprise server architectures are the trend of the future. The EonStor DS supports a maximum data throughput of 11,000/5,500MB/s and IOPS of 700K while providing numerous high speed protocols such as InfiniBand 56Gb/s, iSCSI 40Gb/s, and FC 16Gb/s to handle various enterprise critical applications and IT deployment environments.
SANWatch - an Easy-to-use Interface for Storage Management
With the constant evolution of storage platforms, EonStor DS assists customers improve storage and service efficiency by adopting the SANWatch management software. Its multi-feature interface design allows for central management of multiple systems for IT personnel to monitor performance and capacity usage, and complete all related system configurations.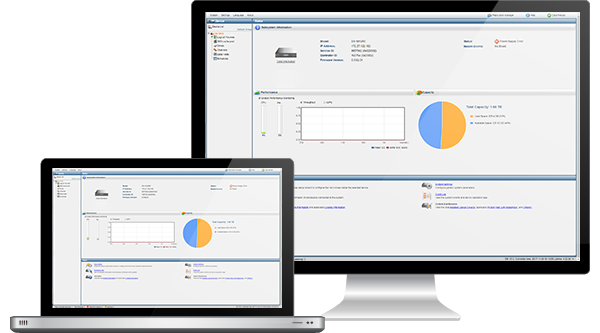 Multiple Form Factors to Choose From
Infortrend provides multiple specifications for storage systems and expansion enclosures such as 2U12-bay, 3U16-bay, 4U24-bay, 4U60-bay, 2U24-bay, etc. even in the same series, so that enterprises can choose what's perfect for them according to their current or future needs.
Rich Host Interface in DS Family
As the range of enterprise applications is wide, the required communication interface for each application may differ. Infortrend provides rich communication interfaces such as FC 16Gb/s, FC 8Gb/s, iSCSI 40Gb/s, iSCSI 10Gb/s, iSCSI 1Gb/s, InfiniBand 56Gb/s and SAS 12Gb/s to allow complete compatibility with every application, offering a fast and reliable data transfer quality.
*

Converged Host Board : 16Gb/s FC, 8Gb/s FC, 10Gb/s iSCSI, 10Gb/s FCoE
Cache Backup Technology
Infortrend CBM will use power provided by super capacitor and move write cache data to flash module within seconds to prevent data loss when unexpected power failures occur, and write data in the flash module back to drives after power is restored. Super capacitor can also reduce maintenance costs as it is non-volatile and does not need to be replaced periodically.
Modular Design
From power supplies, fans, controllers, to host boards, all Infortrend products adopt modular designs to lower maintenance complexity and provide fast, precise technical support and RMA services, so that your storage system is free from any down time to maintain non-stop services and increase productivity and competitiveness.
AV Optimization
Designed for AV applications, its controllers can automatically detect multiple sequential I/O operations while appropriately setting up the size of pre-read cache for each stream, prompting the caching of essential media data to provide a stable high throughput without frame drops.
---