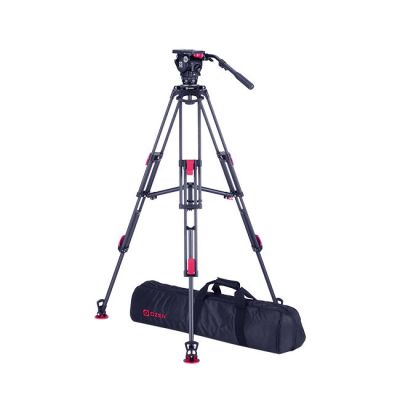 OZEN 5CF2HD 75mm AGILE 5 (Mini E-Z LOAD) Heavy Duty System
by OZEN MFG# OZEN-OZ-5CF2HD
OZEN 5CF2HD 75mm AGILE 5 (Mini E-Z LOAD) Heavy Duty System
The OZEN AGILE 5 75mm Fluid Head and 2-Stage Carbon Fiber Tripod System is suitable for users of handheld-sized mirrorless and DSLR cameras weighing up to 15 lb. Lightweight and mobile, the system provides a solid platform suitable for interiors and exteriors with flat, uneven, and rough terrain. The Agile 5 head has seven steps of counterbalance to fine-tune the balance of your head, and a zero setting that allows you to operate without any counterbalance applied, desirable with extremely lightweight cameras. Three steps plus a zero setting for pan and tilt drag allows for smooth cinematic moves at different speeds, as well as whip pans and tilts.

The head features a true quick release plate, and it comes with a telescoping pan handle that can be attached to either side of the head via one of the two provided rosette mounts. The legs feature two locks per leg and a wide height range, and the mid-level spreader offers numerous advantages over a ground spreader. The dual-spike feet are excellent for creating grip when shooting on soft terrain, and the removable rubber feet snap over the foot spikes for working on hard surfaces and in delicate locations.
OZEN Agile 5 Mini E-Z Load 75mm Fluid Head
The OZEN Agile 5 is a 75mm half-ball fluid tripod head built for compact, handheld-size cameras. It's designed with 7+0 steps of counterbalance fine-tuned specifically for such small and lightweight cameras. With a counterbalance payload of 0-15 lb, the head supports these cameras with or without accessories. The Agile 5 features OZEN's Mini E-Z Load quick release camera plate system, which allows efficiently mounting your camera from the top, as opposed to sliding it in from the front.
The Agile 5 offers 3+0 steps of fluid pan and tilt drag and has independent pan and tilt locks. Drag is designed to be ultra smooth and to remain so through continued use. The "0" setting being available for both counterbalance and drag, the Agile 5 is also highly suitable for still photography.
The head provides two rosette mounts and includes an extendable pan bar that can be attached to either the left or right rosette. The rosettes are replaceable for added longevity of the head. The supplied camera plate comes with both 1/4"-20 and 3/8"-16 mounting screws. An illuminated bubble level is also built in and powers on at the press of a button so you can balance the head in any environment.
Key Features
75mm half-ball fluid tripod head
7+0 steps of counterbalance tailored to handheld-size mirrorless/DSLR cameras
0-15 lb counterbalance payload
Mini E-Z Load quick release camera plate system
3+0 steps of fluid pan/tilt drag designed to be ultra smooth over continued use
Independent pan and tilt locks
Two replaceable rosette mounts
Extendable pan bar included
Camera plate with 1/4"-20 and 3/8"-16 mounting screws
Illuminated bubble level
Aluminum build 
OZEN 75CF2HD 75mm Two-Stage, Heavy-Duty Carbon Fiber Tripod
Give your camera solid feet to stand on with the 75CF2HD 75mm Two-Stage, Heavy-Duty Carbon Fiber Tripod from OZEN. Designed for use with a separately available 75mm fluid head, this two-stage tripod supports a payload of 55 pounds and offers working heights ranging from 24 to 61" using the included, removable MLS100 mid-level spreader. If you need to go even further up, you can replace the included spreader with the separately available Contender heavy-duty mid-level spreader, which gives you a range of 24 to 65".
For greater rigidity, the 75CF2HD's carbon fiber leg tubes are pin-secured to their anchors—no glued joints. Highly visible flip brake levers are used to lock the legs into place. Moreover, the 75CF2HD comes equipped with deep-tread rubber feet for better traction on smooth surfaces.
Payload capacity of 55 pounds
Removable MLS100 mid-level spreader
Deep-tread rubber feet
Molded carbon fiber tubes are pinned to their joints, not glued
Flip-lock brakes are operator-adjustable for wear