Smart Videohub CleanSwitch 12x12
by Blackmagic Design MFG# BMD-VHUBSMTCS6G1212
Smart Videohub CleanSwitch 12x12
The world's first SD, HD and Ultra HD mixed format routers!
Introducing the exciting new Smart Videohub, the world's first Ultra HD mixed format routers with built in video monitoring and spin knob router control. Smart Videohub includes the latest 6G-SDI or 12G-SDI technology depending on the model, so you can simultaneously connect and route any combination of SD, HD and Ultra HD video, all the way up to high frame rate 2160p60, all on the same router at the same time! You also get revolutionary new visual routing that lets you see your router connections as video on the built in LCD as you scroll the knob to select your routing. Now you can route your video simply by looking at the video!
Compact Design
Innovative control and
monitoring in a compact design!
Smart Videohub's beautiful machined aluminum design features new innovative video monitoring control. Now you can visually route video because the built in monitor lets you see live video, crosspoint connection labels and TV formats displayed simultaneously. You can make selections with the spin knob or switch video with the dedicated button panel. Choose from three incredible models! The Smart Videohub 12x12, 20x20 and 40x40 all feature the amazing new control panel, built in power supply, network control and advanced 6G-SDI connections in a compact design. You can even configure all IP settings on the front of the unit without a computer!
Smart Videohub CleanSwitch 12x12
Glitch free clean live switching and resynchronization

When you need to cleanly switch between video sources to monitors or directly to air, you need timed or genlocked signals. If you cannot guarantee perfectly timed source signals but you still need to clean switch then Smart Videohub CleanSwitch 12x12 is the special model of Videohub that features resynchronization on all inputs so you get perfect clean feeds every time! Smart Videohub CleanSwitch 12x12 has all of the same great features of Smart Videohub 12x12 plus includes full resynchronization on every input so the router automatically re times all inputs to ensure clean, glitch free switching between router cross points. Sources of the same resolutions and the same frame rate can even be output directly to air for smooth, cuts only production. Just like all Smart Videohub models, you can control Smart Videohub CleanSwitch directly from the front panel or remotely over ethernet using the Videohub Control Panel software on a Mac or PC.
Unsychronised Sources.            Re-Sync and Clean Switch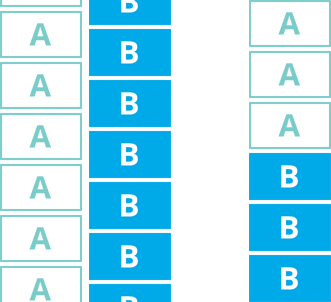 All Video Formats Simultaneously
Different formats, frame rates and resolutions simultaneously!
Smart Videohub includes multi format technology so you can simultaneously connect SD, HD and Ultra HD equipment all on the same router at the same time. SDI products from Blackmagic Design will automatically detect the SDI video format when it changes and instantly switch standards. This means you can seamlessly work in NTSC and PAL SD, 720 and 1080 HD and even 2160 Ultra HD at any frame rate, all at the same time on the single router!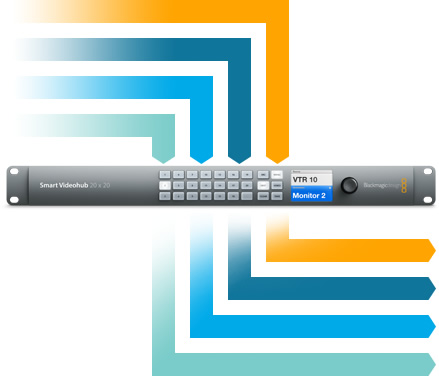 Ultra HD Quality, HD Compatibility!
The broadcast industry's video standard of the future
Get amazing images that are so detailed it's like being there! With Ultra HD you get 4 times the resolution of regular 1080 HD video for a massive 3840 x 2160 frame size. The new Smart Videohub easily handles the enormous data rates of full resolution Ultra HD video as well as SD and HD video. Ultra HD is the broadcast standard of the future and production of 4K content is accelerating! Smart Videohub's advanced 6G-SDI multi format connections are compatible with your existing SD-SDI and HD-SDI equipment as well as the latest Ultra HD gear.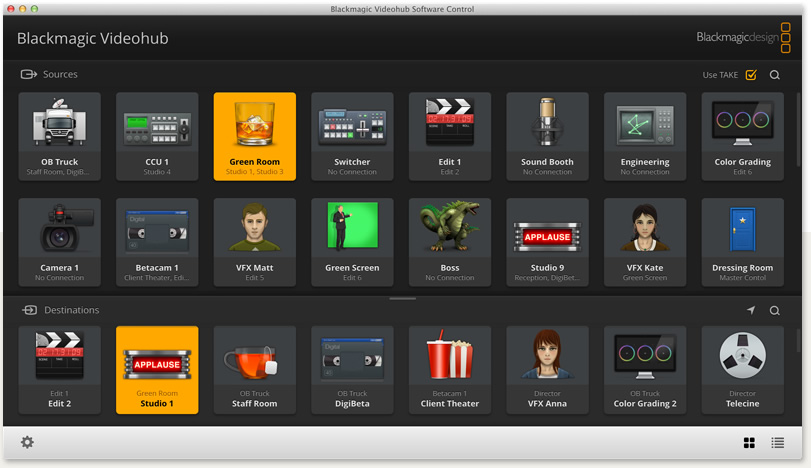 External Software Control
Control routing via network on Mac and Windows!

If you want to control your Smart Videohub anywhere then the included free Videohub software control for Mac and Windows is the perfect solution. Videohub control software has a great looking interface with amazing icon buttons. When used with touchscreen PCs, you get a fantastic large screen XY control panel! You can even download the software control panel for Apple iPad® that lets you use it as a fantastic, low cost touch screen router panel, it's free on the App Store!
Smart Videohub CleanSwitch 12x12
Technical Specifications
Description
Compact 6G-SDI router with built in re-synchronizers on all inputs allows clean switching between all video sources of the same video standard, and can be used as 12 re-synchronizers for automatic re-timing of SDI feeds. Smart Videohub CleanSwitch supports 12 inputs and 12 outputs in virtually all SD, HD and Ultra HD video formats. Supports multiple formats on the same router at the same time and will clean switch between multiple formats that match the reference frame rate when the switching is between the same video standard. Includes front panel button and spin knob routing, elegant machined metal front panel with LCD for routing display and video monitoring and remote Ethernet control.
Connections
SDI Video Inputs
12 x 10-bit SD-SDI, HD-SDI and 6G-SDI.
SDI Video Outputs
12 x 10-bit SD-SDI, HD-SDI and 6G-SDI.
SDI Rates
270Mb, 1.5G, 3G, 6G.
Video Input Re-Sync
On all 12 inputs for clean switch.
SDI Reclocking
On all SDI outputs.
Reference Input
Tri-Sync or Black Burst.
Control Panel Connection
Ethernet.
Serial Control Connection
RJ-6 RS-422.
Multi Rate Support
Auto detection of SD, HD or 6G-SDI. Simultaneous routing of 4K, HD and SD video.
Updates
USB
Front Panel Router Control
12 buttons for local control of Videohub. 6 buttons and scroll wheel for control of LCD display or RJ45 Ethernet.
Router Configuration
Via front panel LCD or RJ45 Ethernet.
RS-422 Router Control
1 x input for controlling router crosspoint switching.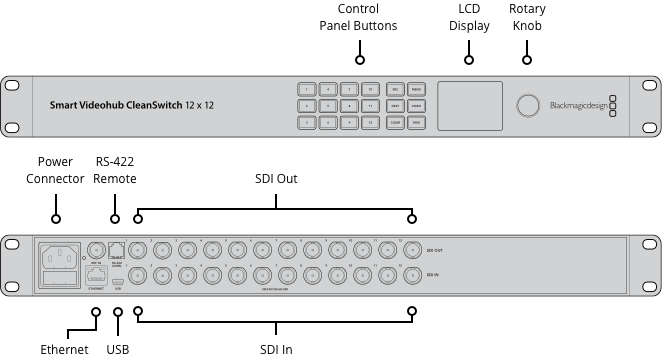 Standards
SD Video Standards
525i59.94 NTSC, 625i50 PAL.
HD Video Standards
720p50, 720p59.94, 720p60
1080p23.98, 1080p24, 1080p25, 1080p29.97, 1080p30, 1080p50, 1080p59.94, 1080p60
1080PsF23.98, 1080PsF24, 1080PsF25, 1080PsF29.97, 1080PsF30
1080i50, 1080i59.94, 1080i60
2K Video Standards
2K DCI 23.98p, 2K DCI 24p, 2K DCI 25p
2K DCI 23.98PsF, 2K DCI 24PsF, 2K DCI 25PsF
Ultra HD Video Standards
2160p23.98, 2160p24, 2160p25, 2160p29.97, 2160p30
4K Video Standards
4K DCI 23.98p, 4K DCI 24p, 4K DCI 25p
SDI Compliance
SMPTE 259M, SMPTE 292M, SMPTE 296M, SMPTE 424M, SMPTE 425M Level A and B , ITU-R BT.656 and ITU-R BT.601
SDI Video Sampling
4:2:2 and 4:4:4
SDI Color Precision
10-bit 4:2:2 and 4:4:4
SDI Color Space
YUV or RGB
SDI Auto Switching
Automatically selects between SD-SDI, HD-SDI, and 6G-SDI on each input
SDI Metadata Support
Video payload identification ancillary data as per SMPTE 352M
Operating Systems

Mac 10.12 Sierra,
Mac 10.13 High Sierra or later.

Windows 8.1 or Windows 10.
Physical Specifications
Physical Specifications