Videohub Master Control
by Blackmagic Design MFG# BMD-VHUB/WMSTRCRL
Videohub Master Control
Ethernet hardware panel with spin knob control. The Videohub Master Control is a remote 1RU panel that gives you complete control over your entire router from anywhere in the studio. Simply connect Master Control to your ethernet network and you get full control of every crosspoint on your router. The front panel features programmable buttons, spin knob control and an elegant LCD for displaying source and destination labels. That means you can see and route all of your cross-points remotely, even on the biggest Videohub!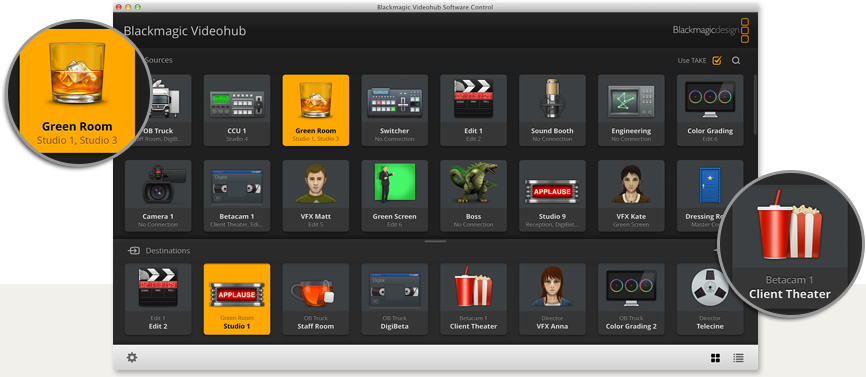 Software Control
Network router control from your desktop!

When you're editing, grading, or doing broadcast design, the best place to control your router is right from your desktop! All Videohub models include free software that you can install on your Mac or Windows PC. The attractive, icon based router control software includes multiple views so you can choose the layout that's best for your work.

Push Button View
Pushbutton View is the fastest and most intuitive way to control your router! It features large buttons with elegant icons that represent the most common post production equipment. That means you get a router control interface that looks just like your facility. Pushbutton View is ideally designed to work on touchscreen monitors and gives you the most fluid, computer based routing control you'll ever experience!

Personal Router Views
With Personal Router View you can see every connection in a single window, or create a personal set to see only the equipment you want. This means you get a much smaller interface window that won't get in the way of other software, such as editing or design tools. There is also a special Router Control View that lets system administrators label and manage all of the connections in your facility. Personal Router View gives you the flexibility to focus on just the connections you need!
iPad® Control
Get portable router control anywhere in your facility!
Available free from the App Store, the Videohub Pushbutton View looks stunning on your Apple iPad. That means you can use an iPad over your wireless network to change routing from any room in your studio, all without using dedicated panels or computers!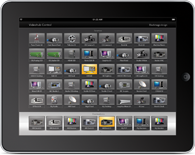 Connect via Ethernet
Add network control
panels quickly!
Videohub Smart Control and Videohub Master Control panels use standard Ethernet networking. That means you can plug into the existing computer network. Both control panels feature (PoE) power over Ethernet so if used with an Ethernet switch that includes PoE support, no external power supply is required. Videohub hardware control panels also include loop through Ethernet, perfect for looping dozens of control panels so you save hundreds on Ethernet cabling!

Easy to install
Multiple connection options for easy setup and control
Videohub Master Control
Technical Specifications
Description
When you need to access your whole router without sacrificing speed, then Videohub Master Control lets you scroll your router sources and destinations with the easy to use spin knob control or via direct button entry. You can even see all routes on the beautiful LCD! Powers via DC or the Ethernet connection!
Connections
Ethernet
RJ45 Ethernet with Power over Ethernet supported, without power supplied on loop Ethernet output.
Updates
USB 2.0 high speed (480Mb/s) interface.
Power
+12V DC input
Hardware Control
15 assignable buttons with scroll wheel for fast selection of source and destination. LCD information screen.
Internal Software
Internal Software upgrade via included firmware updater application via USB.
Operating Systems

Mac 10.12 Sierra,
Mac 10.13 High Sierra or later.

Windows 8.1 or Windows 10.
Physical Installation
1 rack unit size. Less than an inch deep.
Button Configuration
Included free for Windows™ and Mac™ via USB 2.0 high speed (480Mb/s) interface.
Power Requirements
Power Fail Protection
Button configurations and router communication preserved and restored instantly at power on. Button configuration can also be saved for later recall.
Power Supply
1 x Universal power supply included with international socket adapters for all countries.
Physical Specifications
Weight: 827g
Depth (not including connectors): 36mm
Width: 482mm
Overall depth (including connectors): 40mm
Height: 44mm
Environmental Specifications
Operating temperature
0° to 40° C (32° to 104° F)
Storage temperature
-20° to 45° C (-4° to 113° F)
Relative Humidity
0% to 90% non-condensing
What's Included
Videohub Master Control
Universal power supply included with international socket adapters
Warranty
12 Months Limited Warranty.