Blackmagic Design ATEM Camera Control Panel
by Blackmagic Design MFG# BMD-SWPANELCCU4
ATEM Camera Control Panel
Remotely control four cameras,
all from a single control panel!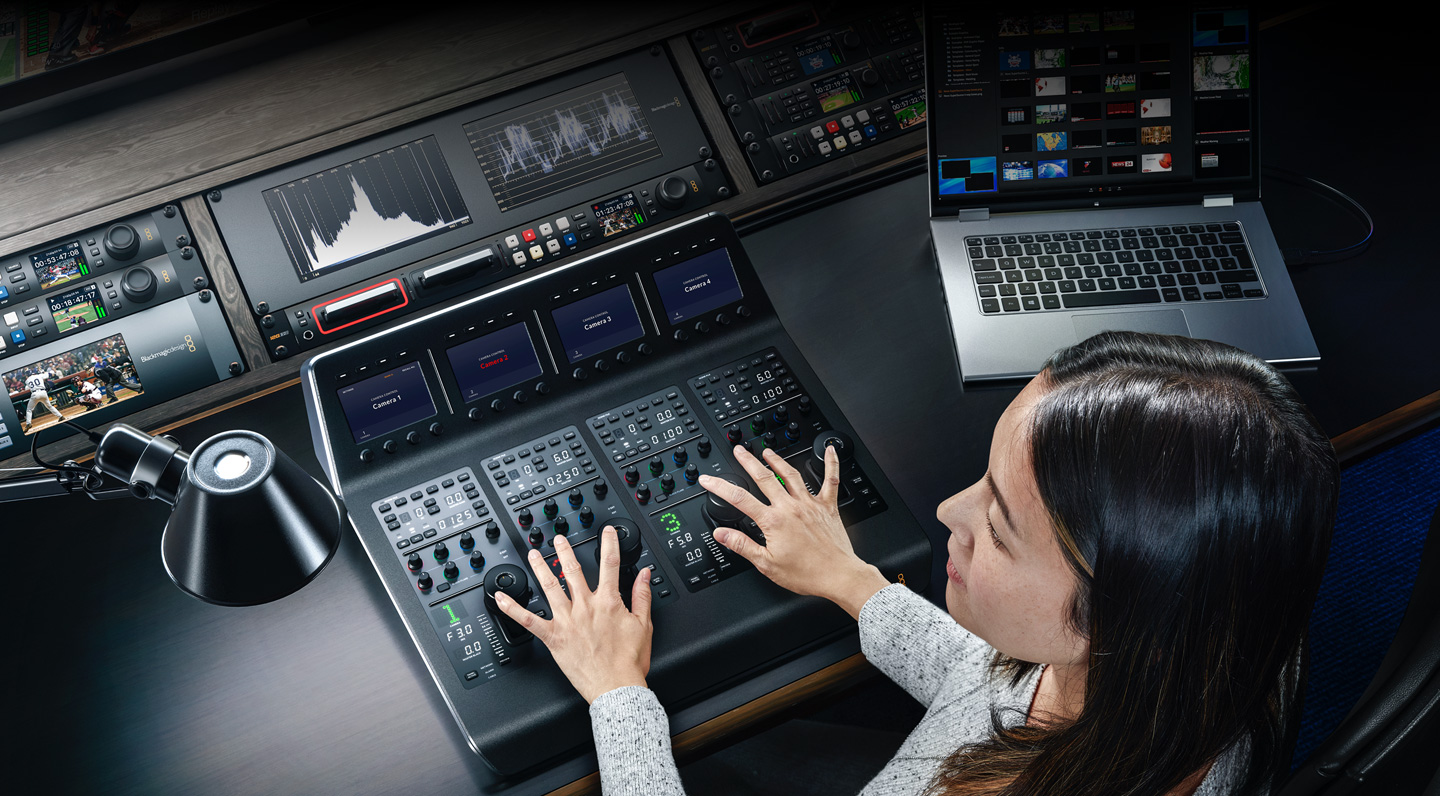 The ATEM Camera Control Panel is a compact remote camera control unit designed to control up to four different URSA Broadcast, URSA Mini, Blackmagic Studio or Blackmagic Micro Studio cameras. The control panel features traditional broadcast style controls and adjustments so a single person can monitor and adjust a wide range of technical parameters such as black levels, gain, color balance, shutter speed and more. This leaves your camera operators free to focus on the more creative aspects of live production such as framing and composition. Unlike traditional CCU controllers, which have to be installed into a desk, the ATEM Camera Control Panel has been designed to be portable so it can simply be placed on any desktop or bolted down so it can be mounted in a slide out rack shelf. The controls are arranged in a familiar and logical layout, making it perfect for both experienced and new operators. Plus, it works with all ATEM switcher models!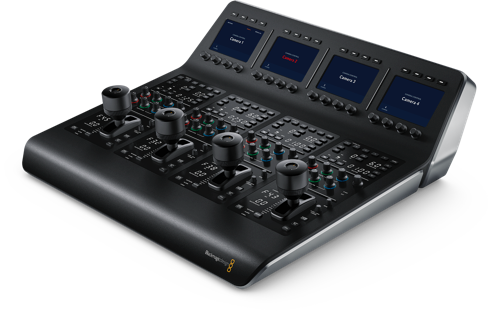 Control Four Cameras
One person can control 4 cameras!
When working on live multi camera programs, it's important to make sure all of the cameras are properly balanced and set up correctly so that you get consistent video from every angle. The ATEM Camera Control Panel features 4 camera controllers in one panel. Each camera controller includes a large LCD screen with soft buttons and knobs at the top of the panel, and a full set of professional controls below, on the main body of the panel.

Scene and Camera Controls
The top section lets you save and recall scene presets so you can quickly adjust cameras based on changes in the scene such as lighting. This section also includes controls for adjusting master gain, white balancing the camera and changing the camera's shutter speed.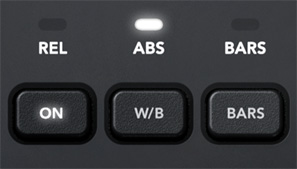 White Balance
Quickly set and adjust white balance.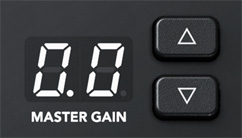 Master Gain
Boost sensitivity of sensor in low light or when more depth of field is needed.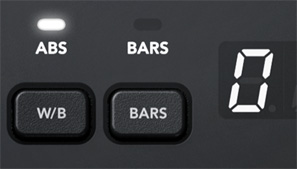 Bars
Select to output color bars for the selected camera.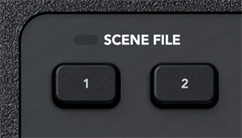 Load Scenes
Save and recall scene presets.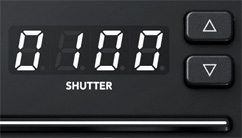 Shutter Speed
Set the shutter speed of the camera.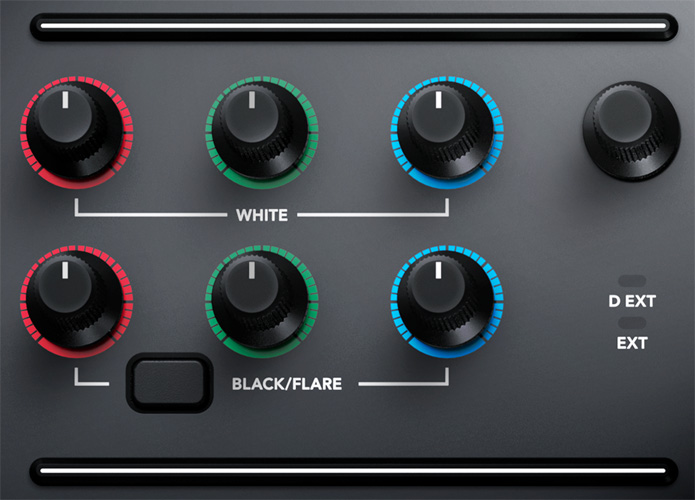 Gain and Pedestal Controls
The center section features independent RGB controls for gain and pedestal, or white and black. This allows you to adjust the individual red, green and blue levels in your blacks and whites to compensate for unwanted color.
White
Independent RGB control for gain/whites.
Black
Adjust the RGB values for pedestal/blacks.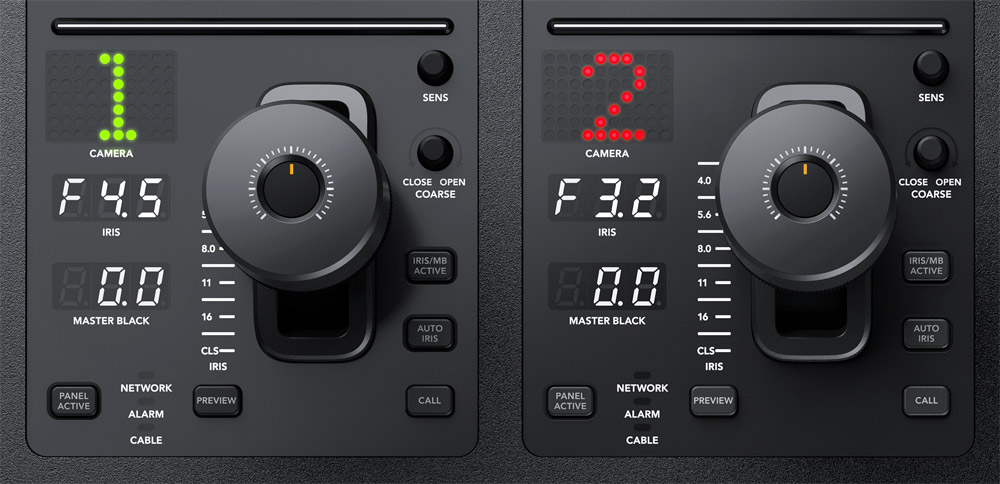 Lens and Iris Controls
The bottom section features an LED camera number that indicates preview and on air status,along with a high quality professional joystick that's used to precisely adjust the iris and master black. It also features a call button for talkback with the operator, along with a panel lock button and indicators for the network, power and cable connection to the camera.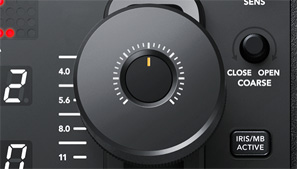 Iris Control
Joystick for adjusting iris and master black. Adjust up and down for iris, rotate for master black and push to select camera to monitor.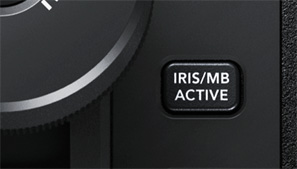 Iris and Master Black
Locks the iris and master black controls on the joystick to prevent accidental change.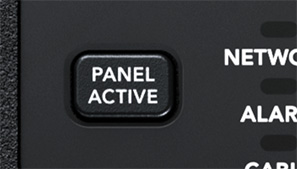 Panel Active
Lock out the entire panel to prevent accidental changes.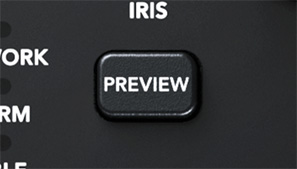 Preview
Used for sending the aux feed to the monitor so you don't have to move the joystick.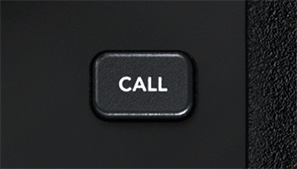 Call Button
Flashes tally light and sends tone to get operator's attention.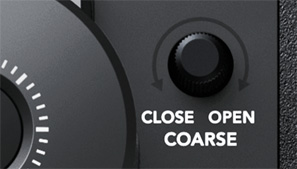 Coarse Control
Sets the limit of the iris control on the joystick.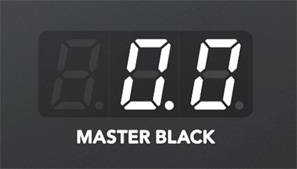 Master Black
Controls the degree or level of black/pedestal without affecting contrast.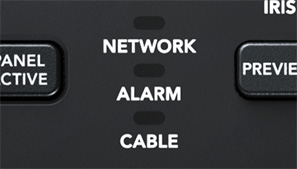 Status Lights
Indicate network connectivity, alarms and cable integrity.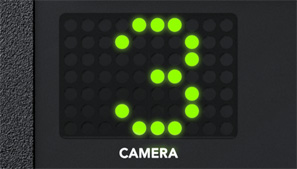 Camera Number
LED dot display that indicates camera number and on air/preview status.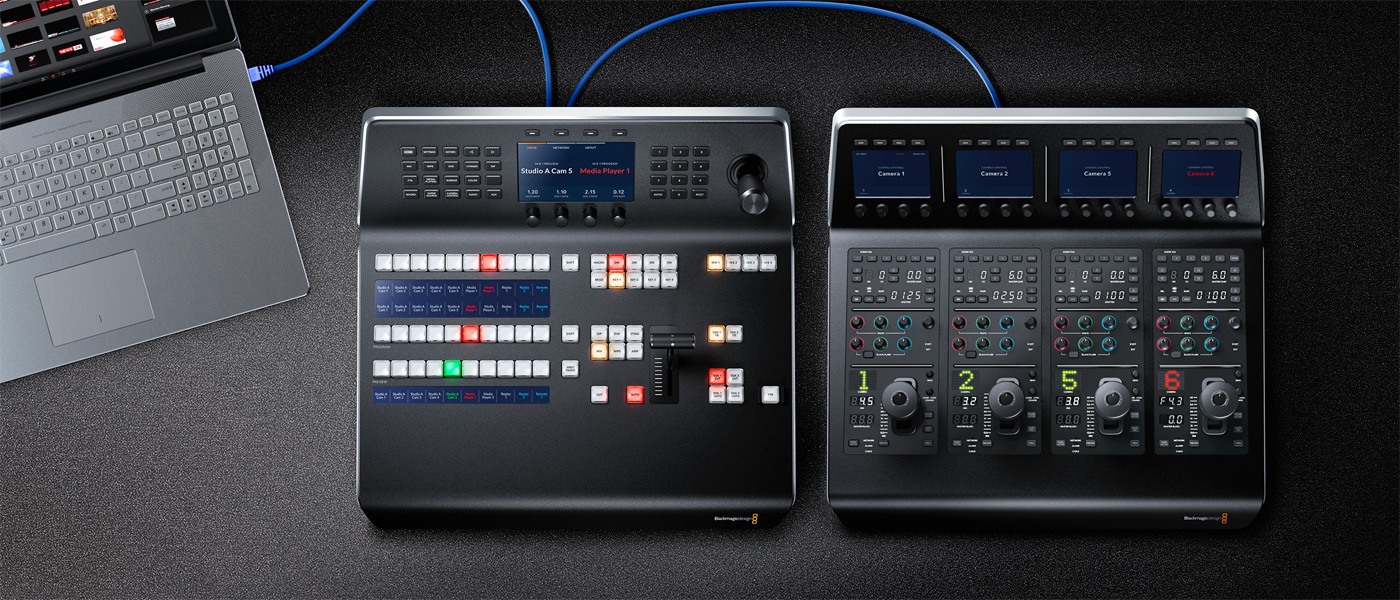 Live Production Workflow
Works seamlessly with ATEM switchers!
The ATEM Camera Control Panel connects directly to your ATEM live production switcher or ATEM hardware control panel via Ethernet. In many setups, you may be using multiple ATEM products such as an ATEM 4 M/E Broadcast Studio 4K switcher with an ATEM 1 M/E Advanced Panel and the ATEM Camera Control Panel. Ethernet can simply be looped from one ATEM device to another.
Fast and Easy Control
With traditional CCU controls, you can

work much faster
The ATEM Camera Control is incredibly fast to use as it features traditional broadcast CCU controls so you get the benefit of years of broadcast experience. You can use the knob on the LCD to set the camera number, which turns red when a camera is on the air. The main joystick control can be moved vertically to adjust the camera iris while the knob can then be rotated to change the master black level. Pressing down on the knob will let you monitor the camera you're currently controlling via the aux output of the switcher. Simply push the knobs to rapidly switch between cameras to ensure all your cameras match color. The ATEM Camera Control Panel is fast to set up so you can instantly start controlling the cameras that are connected to your switcher!
Description
The ATEM Camera Control Panel provides independent controls for up to 4 URSA Mini, URSA Broadcast, Blackmagic Studio and Micro Studio cameras from a single control panel. You get iris control, shutter speed, white balance, master gain, pedestal, RGB controls for white and black, and more.
Connection
Ethernet
2 x 10/100/1000 BaseT with loop
output for additional control panels or computers.
Software Updates
1 x USB-C for firmware updates.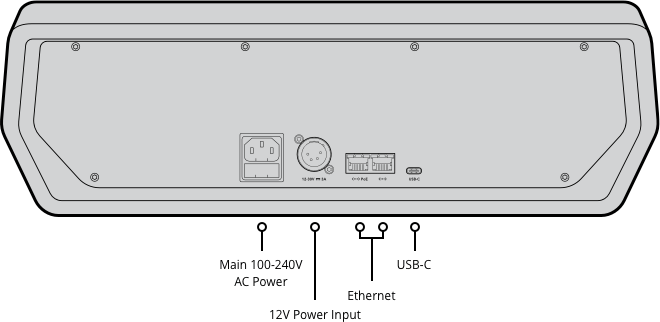 Product Specifics
LCD Menu Displays
4
Camera Number Display
Green off air, red on air.
Setup
White and black balance setup.
3 Axis Joystick
4
Preview Button
4
Iris Control
Auto Iris On, Coarse control.
Panel Active
Protects settings.
Software Applications
ATEM Software Control Panel.
Operating Systems

Mac 10.12 Sierra,
Mac 10.13 High Sierra or later.

Windows 8.1 or Windows 10.
Power Requirements
Input Voltage
1 x Internal 100 - 240V AC.
DC Power
12-30V 3A.
Redundant Power
Yes
Power Usage
30W
Physical Specifications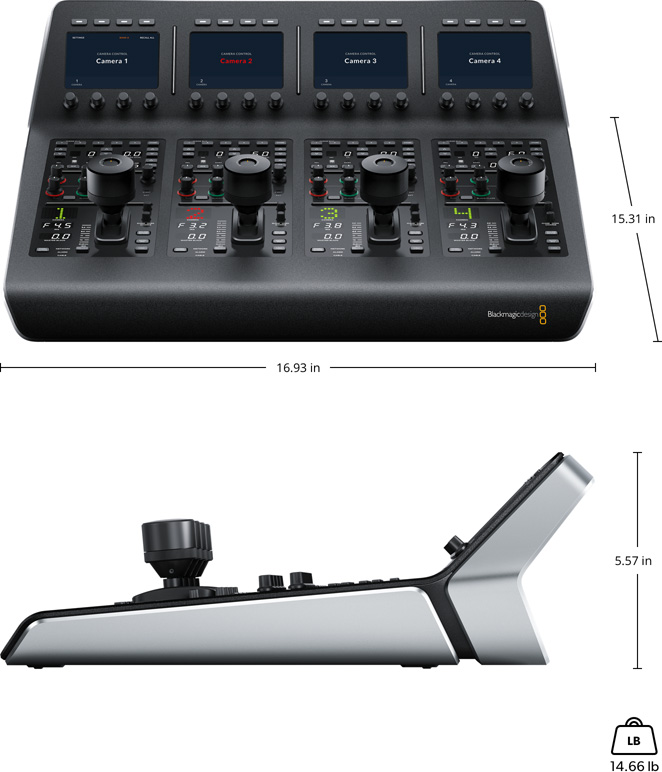 Environmental Specifications
Operating Temperature
0° to 40° C (32° to 104° F)
Storage Temperature
-20° to 60° C (-4° to 140° F)
Relative Humidity
Up to 95%
What's Included
ATEM Camera Control Panel.
Warranty
 12 Month Limited Manufacturer's Warranty.