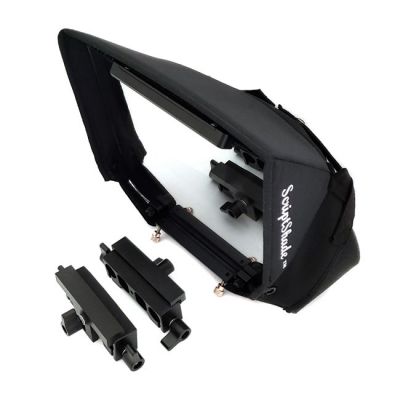 Genustech ScriptShadeâ"¢ (Hood, Beam Splitter Glass and Monitor, Glass, Hood Brackets)
by Genustech MFG# GT-GI-SS
Genustech ScriptShadeâ"¢ (Hood, Beam Splitter Glass and Monitor, Glass, Hood Brackets)
GWMC 4x4 Wide Angle Matte Box that turns into a Teleprompter by using a Smart Phone / most tablets
Your equipment plays an important role in the professional finish and efficiency of your production . Let the ScriptShadeâ"¢ Mattebox help you achieve both these goals.
We know memorizing lines can be a challenge in any production. With the ScriptShadeâ"¢ Mattebox reading script is easy. It is however more than just a Teleprompter. First and foremost it is a professional Wide Angle Mattebox complete with french flag for increased light control.
The ScriptShadeâ"¢ Mattebox is perfect for high quality video and full frame cameras, all you need to do is let your production requirements decide if it is a Teleprompter or Mattebox.
The ScriptShadeâ"¢ Mattebox achieves all of these requirements and at an affordable price for your production budget. The simple but innovative design facilitates a super fast setup from Mattebox to Teleprompter and back again. And, because of the size and lightweight it can easily fit into your bag. Preparing script is also breeze as the ScriptShadeâ"¢ Mattebox is compatible with your phone or tablet.
Flexibility was another of our key objectives. Not just in switching from Mattebox to Teleprompter but also where your Teleprompter could be used. Unlike traditional Teleprompters, the ScriptShadeâ"¢ Mattebox has no boundaries. Mount it to a stabilizer rig and open the door to a new world in script reading. Stationery or in motion, indoors or outdoor, script reading is now easy.
Whether your a blogger, preparing a corporate video or a professional film production the ScriptShadeâ"¢ Mattebox is for you.
The following items are included:
GSS ScriptShadeâ"¢ Hood Assembly
Adjustable Device Mounts (2)
70/30 Beam Splitter
Mirror Pouch
One Template for mounting holes