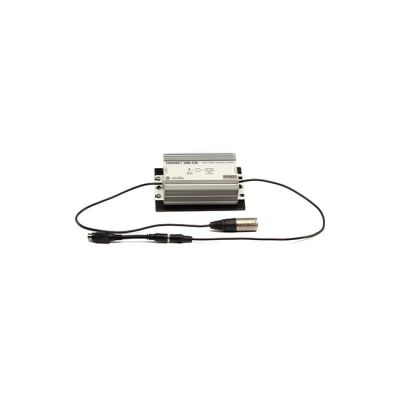 Hive Lighting Hornet 200-CX Battery Cable with In-Line Voltage Regulator
by Hive Lighting MFG# HIVE-HLS2CX-BCVR
Hive Lighting Hornet 200-CX Battery Cable with In-Line Voltage Regulator
The 200-CX Voltage Regulator allows for battery operation from the widely available single 14.4V battery with a D-tap to 4pin XLR cable. Built to mount directly to the Hive Adjustable Yoke using the same pin clip as the Hive battery plate or easily adapted to mount to a light stand or grid with a standard Mafer/Super Clamp.
Compatible with any 10-20VDC 150Wh or greater battery with adapter to 4pin XLR. 
ONLY compatible with the 200-CX. 
Inside the Box:
Voltage Regulator 
Compatibility:
Hornet 200-CX
D-Tap to XLR cable
Gold Mount Battery Plate
V-Mount Battery Plate 
Features:
4Pin XLR input
Plug output wired for 200-CX
Yoke Pin Mount
Adaptable to mount with Mafer/Super Clamp