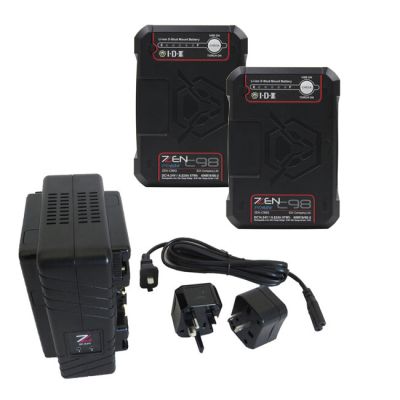 IDX ZC-X2G Dual-Channel Li-Ion Battery Charger and 2 x ZEN-C98G Battery Kit
by IDX MFG# IDX-ZC-2C98G
IDX ZC-X2G Dual-Channel Li-Ion Battery Charger and 2 x ZEN-C98G Battery Kit
This kit includes two ZEN-C98G three-stud batteries, plus one ZC-X2G three-stud dual charger. 
ZEN-C98GÂ 
The ZEN-C98G 3-Stud Mount battery line, the ZENITH Series. The ZEN-C98G provides a robust 97Wh capacity with the ability to handle max draw at 12.7A/140W loads, as well as two built-in D-Tap outputs capable of taking a 80W load for powering common on-board accessories. USB-C PD(Power Delivery) port for two way power and charging when used with the new UC-PD1 compact charger. Cube style for use with cinema cameras. An antiviral and antimicrobial body for hygienic peace of mind.
 
Tech Specs
Capacity:

97Wh (14.5V/ 6.6Ah)

Max Output Voltage:

16.8V DC

Nominal Voltage:

14.54V DC

Max Discharge Current:

12.7A‡

D-Tap:

80W each

USB-C PD:

Input/Output Max. 60W (5V/3A, 9V/3A, 12V/3A, 15V/3A, 20V/3A)

End Voltage:

11V

Battery Protection:

Over charge, Over discharge, Over current

Ambient Temperature:

To charge: 32°F ~ 104°F (50°F ~ 86°F recommended)

To discharge: -4°F ~ 113°F (50°F ~ 104°F recommended)

To store: 32°F ~ 104°F (three months)

Dimensions:

3.46(W) x 4.96(H) x 2.70(D) inches

Weight:

1.54 lbs approx.

 

‡ may vary depending on the operating temperature
 
ZC-X2GÂ 
The ZC-X2G Dual channel Battery Charger is a compact and light weight that charge your 3-stud batteries.  The charger is small at 3" thick and weights only 1 lb. and convenience for your travelling and shooting in the field.  The charger can charge a single battery at a 3A rate or two batteries simultaneously at 1.5A. When only needing to charge one battery pack place it on the rapid charge channel for a 3A charge, so that 98wh pack can be charged in under 2.5hrs.
 
Tech Specs:
| | |
| --- | --- |
| AC Adapter Input Voltage: | AC 100-240V 50/60Hz |
| Power Consumption: | 140VA max |
| Charge Current: | 1.5A x 2pcs / 3.0A x 1pc |
| Power Range: | up to 48watt/hr.(one battery), 24watt/hr.(two batteries) |
| Operating Temperature: | 32°F ~ 104°F |
| Dimensions: | 4.5(W) x 5.5(H) x 3.0(D) inches |
| Weight (Charger): | 1.0 lbs approx. |
| What's in the box | Charger x 1, AC cable x 1, AC plug adaptor x 2 |