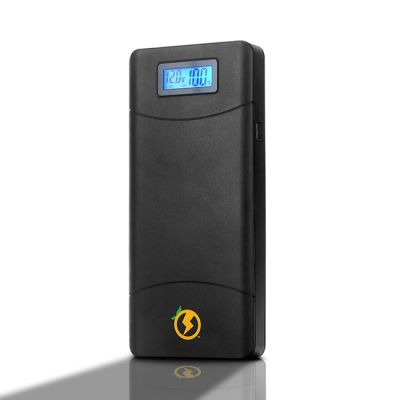 Juicebox External Battery for Z-CAM Flagship Series Cameras (Includes 14V, 3A Rapid Smart Charger, Car Charger and DC Power Cable)
by Juicebox MFG# JB-JBMP-ZEF2
Juicebox External Battery for Z-CAM Flagship Series Cameras (Includes 14V, 3A Rapid Smart Charger, Car Charger and DC Power Cable)
The Magic Power 2.0 external battery kit for the Z-CAM (JBMP-ZE2F) is the perfect answer for filmmakers who want a high capacity, mountable, external battery for their Z-CAM E2 flagship camera.
The Magic Power 2.0 is feature-rich and easy to use. Quickly connect and disconnect the battery from your rig with the included quick release mount. Film for hours with an enormous 58Wh capacity and 12V output. And, monitor your remaining capacity with the handy backlit display, which also displays voltage and current input and output wattage.
The Magic Power 2.0 is also an incredible value. It's only about half the price of our nearest competitors' models (see CORE or IndiPro). And, the Magic Power 2.0 battery is built with the highest quality, lithium ion cells. Recharge the battery more than 500 times with no memory effect.
Charging is also quick and easy. Fully charge the Magic Power 2.0 in just two hours with the included 14V, 3A rapid charger. This kit also includes a car charger and locking DC power cable. Connect, charge and power your Z-CAM without the need for any other accessories.
The Magic Power 2.0 is the most efficient battery system on the market and it is guaranteed by a 60 day easy return policy and twelve month warranty. In short, the Magic Power 2.0 is, far-and-away, the best power solution for Blackmagic camera users.
Features:
Compatible with Z-Cam E2-S6, E2-F6, E2-F8 Cinema Cameras
High capacity (58Wh); approximately 2.5+ hours of run time recording RAW at 24 FPS
Fully mountable and easily swappable with integrated quick release plate and included quick release mount
Back-lit display shows remaining capacity, voltage and input/output wattage
Includes 14V, 3A rapid smart charger, car charger and DC power cable for connecting to the Z-CAM DC input
Please Note:
This battery kit is not compatible with the Z-CAM E2, E2C and E2G cameras. To use this kit with these cameras, you will need to purchase a separate 4-pin LEMO power cable.
Specifications:
| | |
| --- | --- |
| Weight | 2.5 lbs |
| Dimensions | 8 × 6 × 3 in |
| Condition | New |
| Battery Weight | 1 lbs |
| Battery Dimensions | 8 x 3.5 x 1 in |
| Capacity | 58 watt hours |
| Power Connection | Two pin LEMO Connector |