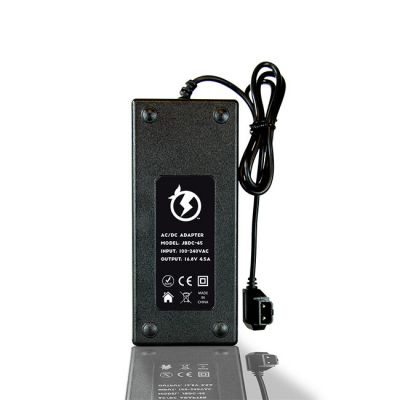 Juicebox V-Mount & Gold Mount Charger
by Juicebox MFG# JB-JBDC-45
Juicebox V-Mount & Gold Mount Charger
Juicebox's JBDC-45 is a rapid charger that works with all standard v-mount and gold mount batteries. It connects and charges via your battery's d-tap port and, with a 4.5 amp output, charges batteries very quickly. The JBDC-45 detects when a connected battery is fully charged so it is safe to leave batteries connected indefinitely. The charger's LED light glows red to indicate when it is charging and glows green when a battery reaches full charge.
The JBDC-45 accepts between 120 and 240 volts and is safe to use with all power outlets, including North American, European and Australian power receptacles.
This is the replacement charger for Juicebox's v-mount and gold mount battery kits.
Weight 0.8 lbs
Dimensions 6 × 4 × 1.5 in
Input Voltage 120 – 240 Volts
Output Voltage 16.8 Volts, 4.5 Amps
Connection Type D-Tap