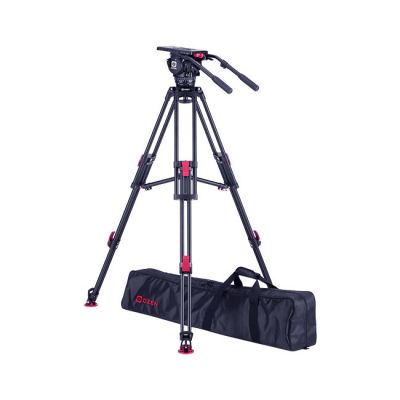 OZEN 20AL2HDM 100mm AGILE 20M E-Z LOAD MAX Tripod System
by OZEN MFG# OZEN-OZ-20AL2HDM
OZEN 20AL2HDM 100mm AGILE 20M E-Z LOAD MAX Tripod System
Key Features
100mm Ball Base Fluid Head
9-Step + 0 Pan and Tilt Drag
8.8 to 61 lb Payload Capacity
Two-Stage Aluminum Legs
16-Step Counterbalance on Head
E-Z LOAD MAX Quick Release Plate
Camera Platform with 4.72" of Travel
Independent Pan and Tilt Locks
Built-In Illuminated Bubble Level
2 x Telescoping Pan Handles 
The OZEN AGILE 20M Fluid Head with 100mm 2-Stage Tripod, Mid-Level Spreader & Soft Case is a tripod system for digital cine cameras, as well as ENG, EFP, and studio applications. The heavy-duty head is precise and responsive, with nine levels of pan and tilt adjustment (including a zero setting), as well as 16 settings of counterbalance to fine-tune your camera. The aluminum legs feature a 100mm bowl for quick leveling, and they can support up to 99 lb, which is more than enough to support the weight of the included head and its maximum load capacity without approaching the legs' limits.
The head features a true quick release plate, as well as a sliding camera platform for balance adjustments. The legs feature two locks per leg and a wide height range, and the mid-level spreader offers numerous advantages over a ground spreader. The dual-spike feet are excellent for creating grip when shooting on soft terrain, and the removable rubber feet snap over the foot spikes for working on hard surfaces and in delicate locations.
OZEN 20M E-Z LOAD MAX Fluid Head (61.6 lb Payload)
The OZEN 20M E-Z LOAD MAX Fluid Head is a heavy-duty fluid head with the familiar placement of pan, tilt, and counterbalance controls to easily fit into your operating style. Built to fit the needs of filmmakers with cameras and rigs that weigh up to 61.6 lb, the 100mm ball base allows for fast leveling and provides a wide balancing platform, which is advantageous when working with long lenses. The head features a quick release plate with two 3/8"-16 threaded camera tie-down screws, and the camera platform has 2.36" of travel for balancing your camera on the head.
The nine steps of pan and tilt drag are independent of each other and allow for precise adjustment to match the needs of your shot. A zero setting for each axis provides completely free movement to create whip pans and tilts. Individual pan/tilt locks allow you to lock one axis while still operating the other. The counterbalance has 16 steps of adjustment, which allows you to further tune the head to match the shot and your operating style. A built-in illuminated bubble level is a useful tool in dim lighting conditions for quickly leveling the head. Removable pan handle rosettes on the left and right side of the head allow you to utilize both included telescoping pan handles at once.
Counterbalance
A 16-step counterbalance allows you to adjust the head for a variety of cameras and rigs weighing from 8.8 to 61.6 lb. The counterbalance system is designed to neutralize the weight of the head, so the fluid head will hold the tilt position you leave it in without having to hold it in place. When tilting, you don't have to fight the resistance of the counterbalance during a tilt move.
Pan and Tilt Drag
With nine steps and a zero setting, you can adjust the head for smooth movement when creating fast or slow moves. The dampening settings allow you to adjust your setting from shot to shot, while the stepped settings make your drag selections repeatable.
QR Plate and Balance Adjustment
The E-Z LOAD MAX QR plate supports heavier camera rigs, pops in and out of the camera platform, and does not have any sliding balance adjustment. However, the camera platform that the plate pops into has 2.36" of back and forth adjustment to aid in balancing your camera on the head. An optional baseplate or VCT system for greater balance capability is customary with larger cameras.
100mm Leveling Ball
The 100mm leveling ball makes it quick to level the head on your tripod legs or other platforms. The large platform size allows you to adjust the balance of your camera and lens and keep the center of balance within the 4" wide platform, for smoother operation without straining the head.
Rosettes
Removable rosettes on each side of the fluid head allow you to attach the included pan handles for two-handed control. If damaged or stripped, the rosettes can be removed and replaced with new ones.
Camera Tie-Down Mounting Screws
The head comes with one each 1/4"-20 and 3/8"-16 camera tie-down screw stored on the sides of the head, in addition to the two 3/8"-16 captured tie-down screws in the E-Z LOAD MAX QR plate.
OZEN 100AL2 100mm Two-Stage Aluminum Tripod
Give your camera solid feet to stand on with the 100AL2 100mm Aluminum Tripod from OZEN. Designed for use with a separately available 100mm fluid head, this lightweight two-stage tripod supports a payload of 55 pounds and offers working heights ranging from 25.6 to 62.5" using the included, removable mid-level spreader. If you need to go even further up or down, you can replace the included spreader with the separately available Contender heavy-duty mid-level spreader, which gives you a range of 23.6 to 65".
For greater rigidity, the 100AL2's aluminum leg tubes are pin-secured to their anchors—no glued joints. Highly visible flip-lock brakes are used to secure the legs into place. Moreover, the 100AL2 comes equipped with deep-tread rubber feet for better traction on smooth surfaces.
Payload capacity of 55 lb
Removable MLS100 mid-level spreader and deep-tread rubber feet
Anodized aluminum tubes are pinned to their joints, not glued
Flip-lock brakes are operator adjustable
Compatible with Agile 10, 12, and 15 fluid heads (available separately)