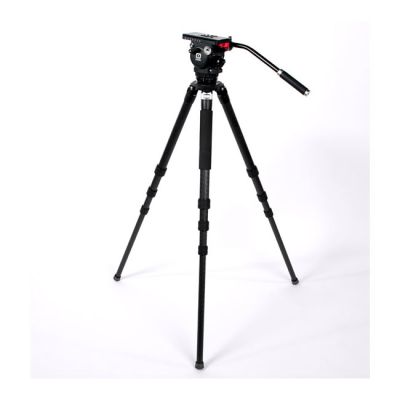 OZEN 5CF3 75mm AGILE 5 (Mini E-Z LOAD) System
by OZEN MFG# OZEN-OZ-5CF3
OZEN 5CF3 75mm AGILE 5 (Mini E-Z LOAD) System
Introducing AGILE 5 featuring incrementally-adjustable counterbalancing with a 'zero' increment of counterbalance and (7) repeatable increments, tailored to Blackmagicdesign's extremely small and lightweight cameras.  The result is supreme control of pan & tilt maneuvers, exceeding expectation of even the most discriminating operator.
Like all of OZEN's AGILE-series fluid heads, your choice of camera mounting interface is available – for AGILE 5, the mini-version of the familiar spring-loaded capture-type camera mounting interface called E-Z LOAD
AGILE 5 features (3) repeatable increments of true pan & tilt fluid drag that neither deteriorates nor deviates with use. Pan & tilt brakes are distinguishable and 90-degree opposed, (1) extending pan bar is included, pan bar rosettes are replaceable for longer fluid head lifespan, and the bubble-level is illuminated with a simple tap-button.
Plus: 75CF3
Key Features
Tremendous height range - 15-62" / 38-159cm
Twist ring type brakes.
Compact- 23" /59cm transport length.
Lightweight - 5.89 lbs /2.68kg carry weight.
No spreader needed.