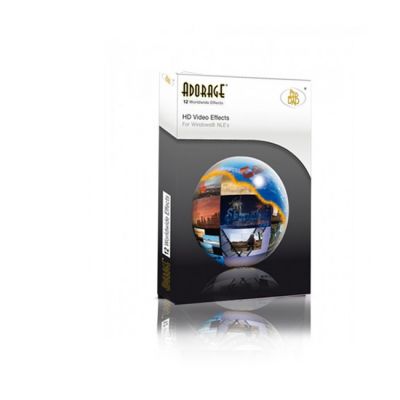 ProDAD Adorage Effects: Volume 12 ESD
by ProDAD MFG# PDAD/Adorage Effects Package 12
Adorage Effects Package 12
"HD-Worldwide Effects"
For perfect vacation and travel videos: more than 2000 effects and transitions in HD quality
Sights, skylines, and contours
Adorage Effects Package 12 contains more than 2,000 customizable effects ideal for editing and enhancing travel footage or video where travel themes are present. The focal point of "Worldwide Effects" are sights, skylines, and contours. Adorage 12 features 64-bit compatibility and is completely in beautiful HD quality: effects in magnificent quality with fast rendering speed.
The Taj Mahal, the skyline of Manhattan or the opera house in Sydney?
With Adorage 12 you will be able to experience the most fascinating attractions, and sights, right on your computer screen."Worldwide Effects" brings the skylines of the greatest cities, the most fascinating sights and the most beautiful natural scenery to your travel videos.Numerous universally applicable effects – textures, decorative framing effects, lighting effects – add to the exquisite choices.
Create instantly successful video compositions with Adorage 12, which offers an attractive user platform, intuitive and interactive interface, and effective workflow.All effects are accessible with the single click of a mouse: this way you can chose your effects, position and customize them.All effects and transitions can be easily used within popular Windows NLEs using the included plug-ins. While the included effects are in stunning HD resolution, they can also be used in SD projects.
 
Share your most beautiful vacation destinations through the view of a porthole. Add your favorite pictures through sophisticated split-screen effects, or create unique video collages. Adorage offers you a large selection of effects and transitions in excellent HD quality. Create atmosphere – quickly and brilliantly.
"HD-Worldwide Effects" for perfect vacation and travel videos:
More than 1000 effects focusing on the subjects "skylines and contours".
Around 1200 effects on the topic "sights".
Numerous universally applicable effects (such as textures, decorative framing effects, lighting effects, etc.).
A wide range of breath-taking short-clips.
Sophisticated split-screen effects.
Video collages and Video/ Photo composites.
Utmost flexibility through open ended integration of photo and film material.
Attractive and interactive user interfaces.
32-/64- bit support (works with Premiere CS5 & Sony Vegas 64 bit).
the use of Adorage 12 contained plugins also allow the use of older Adorage effect packages in
e. g. Adobe Premiere CS 5 or Sony Vegas 64
 
Adorage Effects Package 12 is followed by his predecessor, " Effects of Travel "
and complete your effects collection in unparalleled quality.