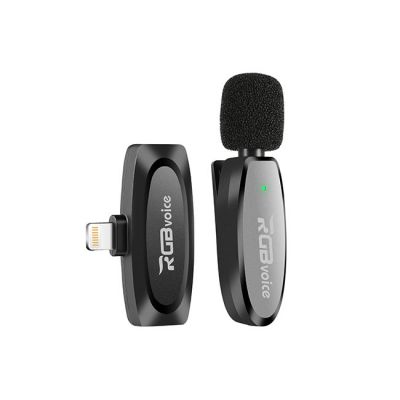 RGBvoice UC02-Lightning Wireless Lavalier Mic (1 RX ,1TX)
by RGBvoice MFG# RGBV-UC02-Lightning
RGBvoice UC02-Lightning Wireless Lavalier Mic (1 RX ,1TX)
Lightning connector Lavalier Mic system, 1x transmitter, 1x receiver
Barrier-free reception plug & play
Built-in DSP noice cancellation chip, anti-interference, effectively identify your original audio.
Lightweight and simple design, 2.5g transmitter and receiver with charging port, clip, power switch, mic and indicator light.
Auto pairing makes operation simple.
360° omnidirectional sound pickup. High sensitivity digital silicon microphone 99% restores high-definition sound.
20 meter wireless transmission. Freedom of recording, high-performance wireless microphone technology, signal up to 20 meters receiving distance.
Record while charging. The device can be charged while it is recording.
Ultra-low latency. Wireless connection achieves real-time sound.
Multipurpose and easy to use for applications such as video recording, live streaming, online teaching and more.
High-quality windshield filters noise, it is also windproof so it can function in various complex environments.
Comfortable collar clip.