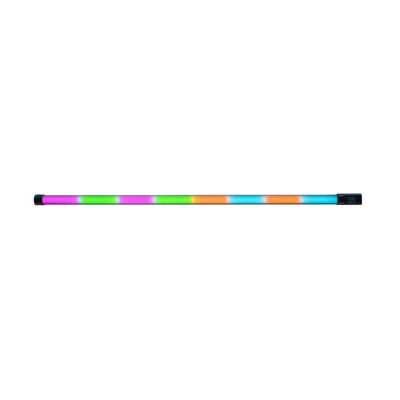 SGC Lights PRISM SE 120 4' T12 RGBWW LED Tube
by SGC Lights MFG# SGC-NS1003PSUS
SGC Lights PRISM SE 120 4' T12 RGBWW LED Tube
THE ULTIMATE LED TUBE FOR CREATORS
The Prism SE has all the core qualities lighting professionals need and expect in two different lengths: 2' and 4'.  Superior color quality is coupled with essential built-in programmable effects, smooth flicker-free dimming, color-mixing and pixelation control via on-board menu, Bluetooth, Wi-Fi, or Blackout wireless DMX app.
 
Aluminum Housing and Rotatable Metal End Caps
Prism SE LED tubes are built with a rugged AL6063+ aircraft-quality aluminum housing and metal end caps.  Prism SE LED tubes can withstand travel and tough rental environments.  This LED tube has a 180º rotating end cap that gives you the flexibility to keep the on-board menu out of sight for in-sight shots.
 
RGBWW Color Engine
The Prism SE has an RGBWW color engine, with one billion colors to mix and choose from!
 
Special Effects
The Prism SE comes with standard built-in special effects, as well as the capacity for you to add up to five of your own custom effects.
 
Wireless Control
Performance starts with control, and the Prism SE gives you plenty of it.  The Prism SE can be controlled with its onboard screen and buttons on the rotating end cap.  Wireless options give you even more flexibility with Bluetooth access, universal 2.4 Ghz Wi-Fi, sACN and ArtNet providing a pathway for use in wireless lead-follow displays, Blackout wireless DMX app, Luminair app, or its very own Alli Connect app.
180º End Cap Control Rotating
Wired: DMX ART-NET
Wireless: 2.4G, W-DMX, Bluetooth, Wi-Fi
 
Mounting Options
Beautiful alighting all comes back to the nuts and bolts - the mounting hardware.  The grip.  Being able to physically move and position your Prism SE tubes is the key to unlocking that final ounce of capability.  SGC Lights has Q-Block plates and C-Stand adapters available that can be assembled to make singe, double, triple, or quad fixture plates.  Floor stands are another alternative, as well as T-Block plates, or Magnet Mounts and Clips, giving you every last bit of rigging flexibility.
 
Power
Universal 90-240V is available for each tube via a 24V DC plug.  The unique removable and proprietary removal battery allows extra batteries to be kept on charge and swapped out instead of swapping out the entire tube.
Prism SE 120: Up to 30 hours runtime, with 3 hours charge time.
High output and accurate white light
CCT Range: 2700K-6500K
HSI>36000
CRI: 97+TLCI: 99